Wedding
Peters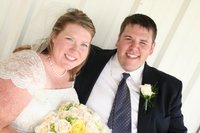 Amy Irene Stotts, Baldwin City, and Joshua Adam Peters, Corbin, Ky., were married Sept. 16, 2009, in an outside ceremony at Stony Point Hall, in Baldwin City, with the Rev. Annola Charity officiating.
The bride is the daughter of Miles Stotts, Baldwin City, and the late Kathy Jardon.
The groom is the son of Debra Sumner, Corbin.
Reader was Kristen Wessel. Flower girls were Lindsey Smith and Kasey Sumner. Ringbearer was Magnus Fore. Musicians were Sara Stotts and Stefan Beck. Wedding coordinator was Carmen Hocking. Flowers were arranged by The Cranberry Market Floral & Gift in Baldwin City. Photographer was Jessica Dawkins of JDC Photography. The wedding cake was by Helen Benefiel.
A reception followed at Stony Point Hall.
The bride is a 2001 graduate of Baldwin High School. She attended Kansas University and is a 2004 graduate of Antoine du Chez Hairdressing Academy in Denver. She is an education consultant for Education Sales Management in Lewis Center, Ohio.
The groom is a 1999 graduate of South Laurel High School in London, Ky. He earned a bachelor's degree in computer information science from DeVry University and is an application developer for JPMorgan Chase.
The couple reside in Westerville, Ohio.
Wedding
Abel

Jodi Wingebach and Mark Abel, both of Eudora, were married Aug. 1, 2009, at Holy Family Catholic Church, with the Rev. Pat Riley officiating and the Rev. Thomas Cawley concelebrating.
The bride is the daughter of Cindy Wingebach, Eudora, and the late Tom Wingebach.
The groom is the son of Chris and Theresa Abel, Eudora.
The bride was escorted down the aisle by her grandfathers, Kenneth Turner and Raymond Wingebach. Maid of honor was Alisha Wingebach. Best man was Matthew Abel. Bridesmaids were Megan Braden, Katelyn Abel, Jennifer Akers and Rachel Lawson. Groomsmen were Cliff Akers, Craig Harris, Austin Calhoon and Miles Cleveland. Flower girl was Kaylee Charbonneau. Ring bearer was Trent Sommer. Ushers were Chris Case, Tyler Wingebach and Brian Harris. Altar servers were Aaron Foster, Kyle Abel and Cameron Foster. Guestbook attendant was Stefanie Wingebach. Pianist was Cynthia Renfro.
The bride is a 2004 graduate of Eudora High School. She graduated from Pinnacle Career Institute in August 2008 as a certified medical assistant. She is employed by American Dermatology Associates in Shawnee.
The groom is a 2006 graduate of Eudora High School and is attending Emporia State University. He plans to graduate in 2010 with a degree in business management. He is employed at FedEx Ground in Kansas City, Mo.
The couple reside in Shawnee.
Engagement
Sharpe and Dunlap
Randy and Rita Sharpe, Lawrence, announce the engagement of their daughter, Abigail Sharpe to Michael Dunlap, both of Raleigh, N.C.
The future bride is a graduate of Free State High School and Kansas State University. She currently teaches science in Wake Forest, N.C.
The future groom is the son of Julia Rogers and Jerry Schultz, Nellysford, Va., and Lohr E. and Noreen Dunlap, Winchester, Va. He is a graduate of Johnson & Wales University of Denver, and serves as the national dealer marketing manager for Rolls-Royce Motor Cars.
The couple plan a June 2010 wedding on the Outer Banks of North Carolina.