Anniversary
Mueller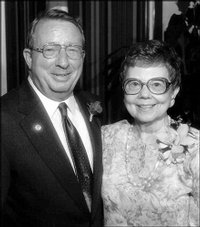 Fred and Annie Mueller, Lawrence, will celebrate their 60th wedding anniversary Sunday. Their family will have a reception during Memorial Day weekend.
Fred Mueller and Annie Hibbert were married March 6, 1945.
Fred was in the Army, stationed in England during World War II, when he met Annie. They married and Fred returned to the United States in 1946. Annie became a U.S. citizen in 1949.
They have lived in Kansas City, Leoti and Dodge City, where they spent 24 years. They spent another 24 years in Wichita. They moved to Lawrence in June 1993. Annie worked many years as a dental assistant and as a manager of gifts and Hallmark at a Wichita drugstore. Fred was a welder and sheet metal worker.
Their children are John Mueller, Houston, and Susan and David Schneweis, Lawrence. They have four grandchildren and six great-grandchildren.