Anniversary
Bullock and M.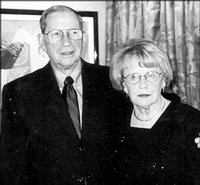 Clifton G. and Shirley M. Bullock, Lawrence, will celebrate their 50th wedding anniversary on Feb. 12. They celebrated the occasion with their entire family in December on a Western Caribbean cruise.
Shirley Mulch and Clif Bullock were married Feb. 12, 1955, in Reno, Nev., while Clif was in the U.S. Navy stationed in California. Shirley transferred from Topeka to California with Southwestern Bell.
Both retired in 1995. Clif retired from the State of Kansas and Shirley retired from the Kansas Public Gas Co. in Lawrence. They have lived in Lawrence for 45 years. Clif was born and raised in Vermillion. Shirley is from the Narka area.
The couple's children are: Debbie and Scott Shmalberg, Lawrence; Janel and Brian Torres, Perryton, Texas; and Scot and Becky Bullock, Overland Park. They have eight grandchildren.
Anniversary
Eberhart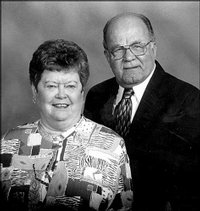 Norman and Lora Lee Eberhart, Lawrence, will celebrate their 50th wedding anniversary with a family dinner.
Norman Eberhart and Lora Lee Bass were married Feb. 13, 1955, in the Danforth Chapel on Kansas University's campus.
Norman was a journeyman electrician, working out of International Brotherhood of Electrical Workers Local 226 for 43 years. During the last 24 years, he was employed by Huxtable and Associates of Lawrence. He retired in 1990. Lora Lee was a homemaker and worked for five years in a medical office.
The couple have one daughter, Charlene Simmons, Leawood. They have two grandchildren.