Anniversary
Pape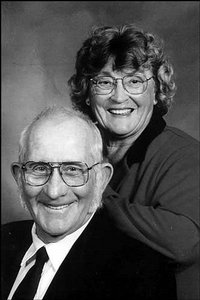 Daniel and Lorene Pape, Olpe, will celebrate their 60th wedding anniversary on Sunday.
Daniel Edwin Pape and Lorene Lucille Coble were married Dec. 12, 1944, in Eureka.
Daniel is a retired farmer. He also has worked as a railroad worker, oilfield pipeline supervisor, building contractor and rancher. Lorene is a retired homemaker.
Their children are Jim and Arlene Blevins, Flemington, Mo.; Larry and Anita Pape, Wellington; Dave and Diana Gile, Morgantown, W.Va.; and Virgil Pape, Olpe. They have six grandchildren and five great-grandchildren.
Cards may be sent to them at 1027 Road 70, Olpe 66865.