Chat about Thursday night's potential for severe weather
June 5, 2008
This chat has already taken place. Read the transcript below.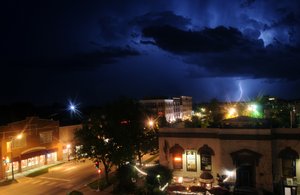 The National Weather Service <a href="http://www2.ljworld.com/news/2008/jun/04/forecasters_predict_tornado_outbreak_thursday/">has predicted a major outbreak of storms</a> for Thursday night into Friday morning. Join 6News Meteorologist <a href="http://www2.ljworld.com/staff/matt_elwell/">Matt Elwell</a> as he takes questions about preparing for the storm and what the early morning forecasts indicate is coming in the evening.
Moderator:
Good morning. Thanks for joining us on this Thursday morning. We have 6News meteorologist Matt Elwell with us this morning. We have a lot of questions already, but Matt I'd like to start with just the latest forecast update. What do you know?
Matt Elwell:
The latest model information and forecast is that we are looking at a fairly large-scale outbreak of severe weather across eastern and central Kansas extending through central NE and IA. The chance of damaging thunderstorms for us here in DG CO is fairly high.
I don't expect to see much thunderstorm development in the afternoon, although an isolated thunderstorm is possible.
The breakdown is this: A rather large Low pressure system is moving across western Kansas with plenty of upper-level (Jet stream) support. We are looking at thunderstorms firing along a dryline across central Kansas by mid-afternoon and creaping this direction by evening.
The Bad: A nightime event for us, with severe thunderstorms likely
The Good: The atmosphere has enough mid-level warm air, it won't likely pick up on wide-spread afternoon thunderstorms.
I work in Topeka and live in Lawrence, in order to commute safely today is it advisable to leave work early? When should I leave work to insure I can avoid any very severe weather on I-70?
Matt Elwell:
I don't think that you will have to leave work early, although (this may seem technical) if the cap (warm air aloft) breaks down, scattered thunderstoms are possible with the potential of being severe. I don't expect that to happen, but you should watch for that. The organized thunderstorms are expected to make it to Lawrence around 9:00 or 10:00 PM. That is when I would expect to see the most impressive thunderstorms develop for us. These storms will probably stick around through the 2-3 AM timeframe. My one fear with this system is that the dry line will stall and bring us heavy rain that could produce localized flooding through dawn. Models hint at a stalling dryline, but with the power of the cold front behind, it is less likely.
Matt, channel 13 is stating that lawrence is right in the bullseye for this and I notice NOAA has upgraded us from a moderate risk to a high risk, why are the predicitons so different??
Matt Elwell:
Good question. The Storm Prediction Center out of Norman, OK puts out the convective outlooks several times a day. Meteorologists look at the same basic data, and take their own spin on what it means. That is why mets at channel 13 or KTKA will look different that with the forecast. We all have different experiences with these weather situations, so it does differ from place to place. I don't know if I totally agree with 13's take, but we are certainly at risk for storms and tornadoes in the eastern KS region. The (SPC) website is www.spc.noaa.gov if you want to take a look.
We live in Saddlebrook Townhomes (6th & Folks). Our townhome is on the top level and below is our garage. In the event we need to take shelter we are not aware of where to go. I head from a friend that it is a requirement by law for our complex to have shelter for the residents. Do you know if this is true? If not, do you know of a near-by shelter that will be open? Thank you very much for your time, I greatly appreicate it!
Matt Elwell:
I am familiar with those townhomes (because I watched them go up). I don't know if it is true that it is required by law and I looked into public shelters in DG county last year: Short answer - there are no public shelters. The safest place to be in your home is on the lowest level of your home that has no windows and the most walls between you and the storm. We do not have a basement in our home but we do have a closet that is under the stairs and away from windows. That is where I go during a tornado.
If a tornado is approaching and you happen to be in a car what should you do?
During a tornado they say you should evacuate your car, but when is the right time to get out of your car? If you are unfamiliar with your surroundings, is there a sign that will indicate it is time to abandon your vehicle and seek other protection?
Matt Elwell:
First thing to do is to get out of your car and find a ditch or low lying area. You want to avoid debris, and the thinking is to stay below where the debris is going to fly (hopefuly above your body and away from you.)
Matt Elwell:
HBRUMMITT: If you see debris around you it is too late. Your main concern is going to be debris. Your car is relatively light and has windows that have no protection. Find shelter or a low-lying area.
Moderator:
Two related questions about people traveling to our state's two largest cities:
I have an important event over in Kansas City this evening and will probably not return home until around 10:30 p.m. What are your travel recommendations for this evening?
I am supposed to be traveling to Wichita to see family this evening, but it sounds like being on the road at that time isn't a good idea. Should I try to leave early? Or, when is the severe weather expected to be over tomorrow?
Many thanks!
Matt Elwell:
Try to get home earlier or stay in KC until the storm passes. With the possibility of tornadoes out there, you want to avoid being put in that position if possible. I expect the storms to move in around the 10:00 PM hour.
Matt Elwell:
cholt: You will probably be fine traveling TO Wichita if you leave early enough. Again, the threat of severe weather does extend all the way down to ICT so you are not avoiding the tornado threat. Storms will likely be out of here (main threat anyway) by 3 AM. Flooding will be a concern for your travels back if you choose to leave in the early morning. Tomorrow, the actual cold front is poised to move through by 9 AM or before. We may see thunderstorms at that point, but much less severe.
Will it be as bad as they are saying for Eudora or will it be calmer by the time it reaches us?
Matt Elwell:
satchel: Eudora's risk is no less than it is for the rest of eastern KS. I expect the storms to have the same intesity as Lawrence. The tornado and damaging storm risk is much less just off to the East of KC, but in general, Eudora's risk is still as high as everybody else's risk.
What is your advise to those camping for the music festival at Clinton Lake?
Matt Elwell:
Honestly? If my wife was going I would encourage her to keep a cell phone in hand and leave as soon as she heard rumblings of thunder. I don't want to discourage people from going, because I think that WAK-Fest is going to have a plan in place in case of severe weather, and we will likely be in touch with the organizers as the storms approach.. But the potential for these storms to go severe is too great for anybody risk their lives. (Go... but I wouldn't want to camp. Find out the shelter situation there when you go.)
What do you recommend for a weather radio?
Moderator:
RE: Wak Fest's severe weather plan, <a href="http://www2.ljworld.com/news/2008/jun/05/expect_severe_weather_today/">Expect severe weather today</a>
Matt Elwell:
FINALLY! An easy question. Without a doubt, my hands down choice is the Midland weather radios. Totally programable to county specific warnings, they have a battery back-up (did I mention to make sure that the batteries in your radios are working?), and they are relativly inexpensive.
You can pick them up at Hy-Vee for around $30 and they are worth their weight in gold in Kansas.
Hi Matt,
This might seem like a stupid question, but how likely are we to see tornadoes in the Lawrence area--or do you have that kind of info at this point?
Matt Elwell:
Silence_Dogood: The SPC (storm prediction center) has us in a 15% chance for tornadoes. That means that any point within a 25 mile area has a 15 % chance of see a tornado. Not the highest risk that we have seen so far this season, but the shear streng of these storms is conducive to tornadoes in general, and a number of these storms will have potential to produce a tornado. That said, our highest risks for today will be rain, hail, and damaging winds.
Moderator:
We have two more question before we let Matt go home and rest up in advance of tonight.
What causes hail?

Matt Elwell:
Hail is caused by updrafts. We normally think of clouds as water dropplets, but the higher you go in the atmosphere, the colder it gets. When water dropplets are in a cloud, they freeze and bump other frozen water dropplets (now we are talking ice). As the air rises it will push these ice pellets into other ice pellets which run into other larger ice pellets (you get the picture). Once we get these ice pellets grow so big that the upward motion of the air parcel (or updraft) will no longer suspend these large chunks of ice in the air... they fall to the ground as hail. The stronger the updraft, the more likely you are to have LARGE hail.
I live in Aberdeen South Apartments, which seem to be a magnet for tornadoes. My question has to do with why this is? Is it because just across the road there are no buildings/houses etc... Everytime there is severe weather I am concerned that any tornadoes will begin right by my apartment.
Matt Elwell:
vavs0929: I understand your frustration. It may seem like tornadoes have eyes for Aberdeen South, but it really isn't the case. I think that when you live on the south or west edge of any town, it SEEMS like these areas are hit first. ( And if a tornado is on the ground already and it is on line for that area, you will be hit first.) It is a matter of coincidence that it happens. I look at the recent outbreak of tornadoes in North KC in May. Not all of the areas are on the edge of town. Scientifically speaking, I don't see any reasoning that would explain it other than chance... Sorry. All I can say is... Keep that weather radio handy.
Moderator:
Matt, thanks very much for taking part of your morning and spending it with our audience here at LJWorld.com. We'll look forward to having your updates throughout the day here online. You and Jennifer will be on Channel 6 tonight if any severe weather is moving through, right?
Matt Elwell:
YES. We have had a plan in place as we have watched this unfold. We will be watching these storms through the afternoon and evening. We will be on-air on Channel 6 anytime that we have a threatening situation for the viewing area (Douglas, Southern Leavenworth and Wyandotte Counties). You will also be able to get the information from www.ljworld.com and www.6newslawrence.com. We will bring updates to the weather situation as it unfolds as well. We will be busy, but we will be here all night and anytime severe weather strikes.
Thanks for all of your questions, and stay tuned for the latest!
Matt Elwell
6 News Meteorologist