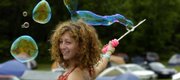 The fifth annual Wakarusa Music and Camping Festival starts on June 5th and runs through June 8th. Organizers are planning on more than 13,500 guests, which would make Clinton State Park the second-largest city in Douglas County until the festival wraps up. See videos, photo galleries, the Wak Talk blog, Best Bets, and more about the Wakarusa Fest.
Past Event
featuring Buckethead / Lotus / Bettye LaVette / and more…
When: Thursday, June 5, 2008, 10 a.m.
Where: Clinton State Park, Clinton Lake, Lawrence
Cost: $49 - $469
-->
-->
A threat of severe weather and a possible tornado outbreak tonight has Lawrence law enforcement agencies on high alert.
That's because 13,000 people are expected to be at Clinton Lake State Park today for the fifth annual Wakarusa Festival. Many festivalgoers camp out during the four-day event at the park, which has few exits and little shelter.
Lt. Kari Wempe, a spokeswoman for the Douglas County Sheriff's Office, said the state park is "not equipped to handle" or shelter thousands of people in park buildings.
The sheriff's department will work with festival organizers to spread the word if harsh weather approaches.
"If severe weather actually comes about, we'll work with the Douglas County Sheriff to notify the patrons through stage announcements, messages from the squad cars going through the campgrounds and any way we can communicate with them as possible," said Nathan Prenger, Wakarusa site director.
If just a severe thunderstorm blows through, Prenger advised people to seek shelter in their cars. If there is a tornado, he encouraged people to get down in a low-lying area.
On Wednesday, the National Weather Service warned of a storm system that could produce a tornado outbreak in the Great Plains tonight.
Some weather experts said the conditions are similar to a June 8, 1974, storm when 39 tornadoes touched down in the southern Plains and killed 22 people, including six in Emporia.
Jennifer Schack, 6News meteorologist, said she and other local meteorologists have kept an eye on the storm this week.
Schack said she expected severe storms and possible tornadoes to hit central Kansas during the late afternoon. She predicted the storms would lessen in severity as they approached the Lawrence area.
"As the storms move eastward and as we head into the evening, they could start merging together, which would bring the tornadic threat down but not eliminate that tornadic threat," she said.
Some festivalgoers who purchased VIP tickets and set up campsites Wednesday were ready to take on the weather.
Christine Lowell, Detroit, who was in Lawrence for her first Wakarusa Festival, said her plan was to head to her van for shelter.
"There's nothing we really can do but hit the van and hope for the best," she said.
Copyright 2018 The Lawrence Journal-World. All rights reserved. This material may not be published, broadcast, rewritten or redistributed. We strive to uphold our values for every story published.