LJWorld.com weblogs Social Media Blog
What's a Gowalla? A brief guide to location-based social networks
To mobile users, Foursquare is more than a childhood playground game. It's one of many new social networks that integrate location-based mobile technology into their everyday routine.
Add Gowalla, Yelp, Whrrl, My Town and SCVNGR to the list and you have a few of the players in a new frontier in social networking that is gaining thousands of followers every day (no, seriously).
There are a few networks distancing themselves from the rest.
Since we've started using them in news coverage (Relay For Life of Douglas County, KU graduation and Bike to Work Day to name a few), I thought I'd break down the basics for each.
How they work: The networks function like games. Mobile users download the network's application onto their iPhone, BlackBerry or Android device (most of them are free). The application locates the user via GPS technology and then let's them "check in" when they physically go to a location. The more check ins you have, the more rewards, points, badges, stamps, or virtual cash you earn on that specific network. You can also follow your friends' check ins, leave reviews/recommendations meet new folks and get sweet freebies along the way.
The trick: You actually have to be near a location in order to check in. It prevents false leaderboards.
Remember: You control your network. If you don't want strangers to know your location, don't add them as friends and don't push check ins to your Twitter and Facebook feeds!
And big thanks to friend Laura who helped me with the Yelp section.
Questions? Leave 'em in the comments for me.
---
FOURSQUARE
History:
Foursquare
launched in New York City in 2009 after its creators sold Foursquare's predecessor,
Dodgeball
, to Google in 2005. In January 2010, the network was opened up to users worldwide. CEO Dennis Crowley
recently stated
that Foursquare is adding 15,000 users per day.
Cost: Free
Devices Supported: iPhone, Android, Palm (thanks, Ryan, for the link) and BlackBerry.
Features:

Ability to add venues via app and on their website.
Add events as new "venues" to track check ins
Unlock badges. Some are novelty, some give you access to new parts of the game
See recommendations and feedback about businesses close to you
Interact with businesses to get deals/specials
Check in at a certain location more than anyone else and you become the "mayor" of that place. Mayors sometimes get perks from businesses
Add tips/to-dos that pop up when another user checks in near a venue
Benefits: Starbucks recently signed a deal where the mayor of each location gets $1 off their drink. Small businesses can use it to track their most-loyal online fans and create deals for customers. Lawrence has a fairly active Foursquare community.
Bummers: Users can't create their own badges.
Below are screenshots of what Foursquare looks like on iPhone: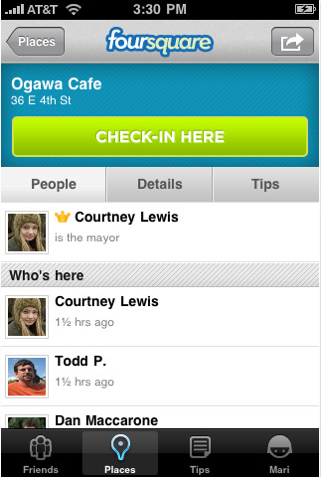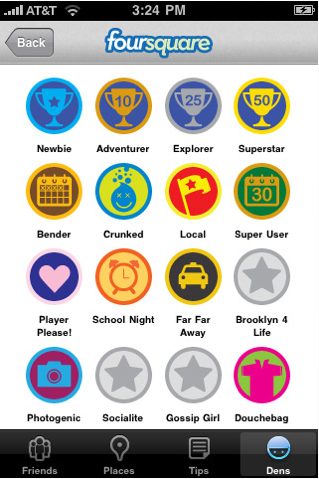 ---
GOWALLA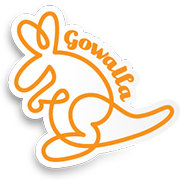 History:
Gowalla
is based out of Austin, Texas, but CTO and co-founder
Scott Raymond
is a Kansas University graduate. Raymond recently spoke at the
Free State Social
about his philosophy on location-based networking and debuted the Gowalla iPad app. The network recently secured $8.4 million in venture capital and won the mobile category at 2010 South by Southwest.
Cost: Free
Devices Supported: iPhone, iPad, Android and Palm. BlackBerry users must use the mobile site
Features:
Must be on-location to add a spot
You can edit a spot once it's been added
Allows users to add events, which are spots that only stay "live" for 12 hours
You can create trips (gives the user a special stamp once they check in at all the places on a trip)
Pick up cute stamps and items, some of which can be worth prizes in real life, as you check in at different locations
Benefits: Local connection aside, Gowalla gives its users a little more freedom to create and play with locations than Foursquare. Also, businesses can submit requests to have their logos Gowalla-ized for the site (good news for branding!)
Bummers: The Gowalla user base is much smaller -- 150,000 compared to Foursquare's 1 million. Sometimes the GPS acts wonky placing you too far away to check in at your desired location.
Below are screenshots of what Gowalla looks like on iPhone: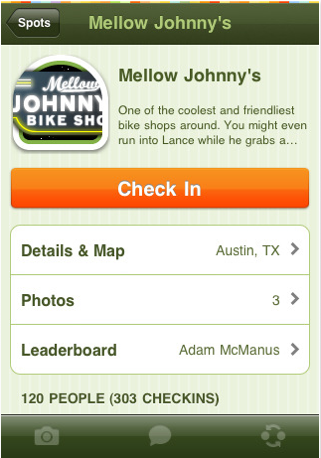 ---
YELP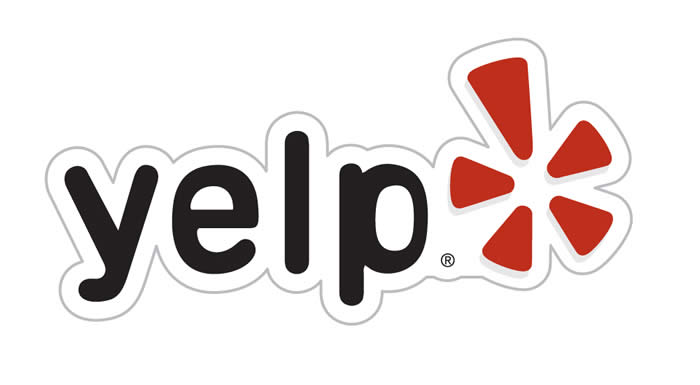 History:
Yelp
combines social networking, reviews and local search. It was founded in 2004 with the goal of helping people find great local businesses. The network claims over 31 million users visit per month, with over 10 million published reviews across the country.
Cost: Free for reviewers and businesses, but not advertisers
Devices Supported: iPhone, BlackBerry, Android, Palm and a mobile site.
Features:
Add reviews for any business via mobile or online
Check in at locations
Start discussions on community bulletin boards
Become an "elite" user if you post enough reviews
Business owners can respond to comments on their own business' profile
Benefits: A lot of different people with in-depth opinions and experiences. Community building (Elites get to attend parties together). Potential interaction with business owners. Post basic specials or announcements (as a business owner).
Bummers: Word on the street is Yelp has an aggressive sales team. Also, business owners can comment on reviews, so there is some snarky behavior between local entrepreneurs from time to time.
Below are screenshots of Yelp for iPhone: