Julie Anderson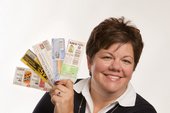 I'm Julie and I love to shop.
I am married to my best friend, Dennis. We have two boys, Eric, 17, and Thomas, 13. I'm a Chicago native who has been transplanted several times and am now settled in Lawrence.
I guess in social circles I would be considered a stay-at-home mom, but in reality, the "stay-at-home" part just never fit. I have not held a full-time position in 15 years. However, I have worked outside the home in some capacity throughout the years. I've been fortunate to be able do this by juggling my hours to work around my husband's and children's schedules. This has given me the opportunity to always be there for my family and still maintain my sanity by having a place in the workforce.
As I said before, shopping is one of my favorite things to do. But as we prepare for our oldest son to head off to college, I've had to learn to shop more economically. So, in addition to sharing my finds with you, I will also be learning how to navigate the sales and use my coupons more efficiently. I hope you will all join me on this journey.
I ask that you visit often and please share your thoughts and ideas with us.
Recent photos