School finance case: Gannon v. Kansas
GANNON V. KANSAS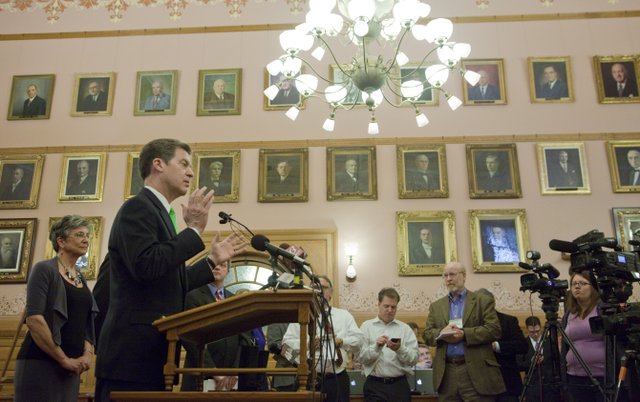 In press conference Friday, inside the old Supreme Court Room in the Statehouse, Kansas Governor Sam Brownback, flanked by Senator Susan Wagle, President of the Senate, left, discusses the Kansas Supreme Court's ruling on the Gannon vs. State of Kansas.
The case
In 2010, a group of school districts sued the state, alleging that Kansas legislature underfunded public schools, violating its duty to make "suitable provision for finance of the educational interests of the state."
The numbers
06/04/2012: This lawsuit went to trial on June 4, 2012, before a three judge panel in Topeka.
Five: Evidence was presented over five weeks, with 17 days of trial, 662 exhibits, totaling 18,727 pages, and 44 witnesses.
$2.962 billion: Amount Kansas will spend from its general fund this year on K-12 education
$515 million: Estimated amount Kansas would have to yearly K-12 funding to comply with trial court's January 2013 order.
$1.3 billion: Estimated amount plaintiffs claim should be added to K-12 funding.
$4,492: Level of base per pupil funding required under current Kansas law, and the amount the trial court ordered the Legislature to fund.
$3,838: Base state aid per pupil actually being funded in this year's budget.
2005: The year another, similar school finance case - Montoy v. Kansas - was settled, which set a precedent for Gannon v. Kansas.
Timeline
While Gannon v. Kansas has been making its way through the courts for several years, the roots of this school finance issue goes back further. Click through the timeline to follow the developments of Kansas' school finance history from its early days in the 90s to current litigation:
Additional links
Read more about school finance and legislative developments at First Bell, Statehouse Live and the LJWorld's Kansas government page.