The estate of a longtime University of Kansas art history professor has donated an additional $1.1 million to KU, bringing her total lifetime and estate donations to more than $2.3 million.
Marilyn Stokstad — KU distinguished professor emerita of art history, renowned author and former museum director — died in March 2016 at age 87.
KU Endowment announced her latest estate gift on Thursday, which will benefit KU's Spencer Museum of Art and art history study at KU.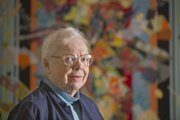 "Marilyn Stokstad had a profound impact on the Spencer Museum of Art through her leadership, scholarship and progressive ideas. She focused her life, resources and formidable intelligence on works of art and their role in education and human experience," museum director Saralyn Reece Hardy said in the announcement. "We are especially honored that she chose to support aspects of the museum that help us sustain opportunities for publishing scholars and provide a welcoming space for bringing art and people together."
According to KU Endowment, the new estate gift comprised:
• $289,000 for the acquisition of art history books at the Murphy Art & Architecture Library.
• $253,000 for building improvement and maintenance at the museum.
• $253,000 for publishing scholarly exhibition catalogues for the museum or Spencer Research Library.
• $300,000 for the Marilyn Stokstad Directorship at the Spencer Museum. She had endowed the directorship in 2012.
Stokstad's previous gifts to KU included $250,000 to create a new interior reception space and remodel the reading room at the Spencer Research Library, plus money that benefited the Student Award Fund at the museum and the Art History Graduate Student Fund.
Stokstad joined the KU faculty in 1958 and retired in 2002. An expert in Medieval art and Spanish art, she was the author of art history textbooks used widely by universities. 
Contact KU and higher ed reporter Sara Shepherd
Have a tip or story idea?
---
More stories
Copyright 2018 The Lawrence Journal-World. All rights reserved. This material may not be published, broadcast, rewritten or redistributed. We strive to uphold our values for every story published.