Kansas University Provost Jeff Vitter will depart at semester's end to become chancellor of the University of Mississippi, leaving KU searching for a second-in-command partway through its current strategic plan.
The Mississippi Public Universities Board of Trustees "unanimously and enthusiastically" voted Thursday to hire Vitter for the job, board president Alan Perry said during a post-meeting press conference in Oxford, Miss., which was broadcast online.
Mississippi's chancellor search committee sought a candidate with the characteristics and attributes to lead the school forward, chairwoman Alice Clark said.
Vitter, she said, "shared our passion and our vision for the transformative role of the University of Mississippi ... and has the leadership, knowledge and experience to lead us to even greater success."
Vitter, a New Orleans native, has a resume packed with some of the country's most elite universities but has said he'd like to get back to the South.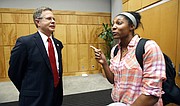 He called the Mississippi chancellorship his permanent goal during a listening session with Ole Miss students earlier Thursday, also broadcast online.
"This is my dream job, where I want to be," Vitter, 59, said.
The statement was in response to this question from a student: "Why are you leaving Kansas halfway through the middle of a plan that you helped co-author, that you're very excited about? What kind of commitment are you willing to make to Ole Miss?"
Vitter said KU was starting year five of its strategic plan and preparing for the next iteration.
"I have an incredible team, and they will carry on," he said. "There is great leadership there at the university."
Vitter, KU's provost and executive vice chancellor for five years, is also a professor in the department of electrical engineering and computer sciences.
Vitter has been "integral" to the university's most important initiatives, KU Chancellor Bernadette Gray-Little wrote in an email message to KU colleagues shortly after the announcement. She said Vitter oversaw design and implementation of KU's 2012-2017 strategic plan, "Bold Aspirations"; directed implementation of the KU Core curriculum; oversaw expansions of KU's engineering and business schools; oversaw "major growth" of technology commercialization and corporate partnerships; led administrative reorganization through KU's Changing for Excellence initiative; and spearheaded KU's Foundation Distinguished Professor initiative, which has brought in nine of a planned 12 top-notch researchers so far.
Vitter will complete this semester at KU and assume his duties at Mississippi in early 2016, Gray-Little said.
"While this is a loss for the University of Kansas, I am delighted for Jeff, who has served this university with passion for the past five years and will undoubtedly do great work in his new role," she said.
Gray-Little also announced that Sara Rosen would be KU's interim provost beginning Jan. 1. Rosen is senior vice provost for academic affairs and a professor of linguistics.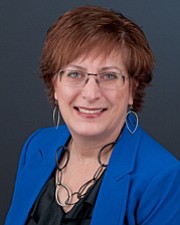 "Sara has done great work for the university as senior vice provost, and her experience and expertise position us to continue the momentum we've established through our Bold Aspirations strategic plan," Gray-Little said.
Gray-Little said KU would begin the search process for a new provost in the coming weeks.
As provost and executive vice chancellor, Vitter is second in command for KU's Lawrence campus but does not oversee KU Medical Center in Kansas City, Kan.
As chancellor of Ole Miss, Vitter will oversee the main campus in Oxford as well as the University of Mississippi Medical Center in Jackson.
Vitter touted his strategic planning experience at KU and previous positions, which was attractive to leaders at Mississippi and also the University of Arkansas, where he was named a finalist for chancellor earlier this month but dropped out of the search in favor of the Mississippi job. Mississippi trustees announced him as the "preferred candidate" for their chancellorship on Oct. 19.
Copyright 2018 The Lawrence Journal-World. All rights reserved. This material may not be published, broadcast, rewritten or redistributed. We strive to uphold our values for every story published.