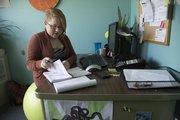 The majority of sexual assaults in this country aren't reported to the police. Of those that are, only a small percentage end in a conviction.
The staff at GaDuGi SafeCenter has these facts in the mind as they try to help victims navigate the turbulent legal and emotional waters that follow incidents of sexual violence.
Decades ago, people in Lawrence didn't even have that kind of support available. That changed in 1972, when a Kansas University student, disappointed with the legal response to her own assault, started the local rape crisis center, the first in the state. Now there's one serving every county in Kansas.
GaDuGi (gah-doo-ghee) SafeCenter now provides around-the-clock support to victims of sexual abuse in Douglas, Jefferson and Franklin counties. It offers victim advocacy in medical and legal settings, a 24-hour crisis hotline and free counseling for people affected by sexual violence. The center also has a human trafficking specialist tasked with finding out the extent of the human trafficking problem in Kansas, after the issue was made a priority by the governor and attorney general. The agency was originally called Rape Victim Support Service but changed its name after getting pushback from the community for having "rape" in its title; GaDuGi is a Cherokee word meaning "working together with the community."
As part of April's Sexual Assault Awareness Month and its ongoing outreach, GaDuGi SafeCenter staff has been working to educate the public about sexual violence, including the myth that women are the only victims of it.
"Everyone is affected by sexual violence. Everyone knows someone who's been affected by sexual violence. Its impacts affect all of us," said Rachel Gadd-Nelson, director of community engagement for GaDuGi. The nonprofit has a victim advocate who not only serves the rural areas of the three counties but also underserved populations, including men, people with disabilities, and the lesbian, gay, bisexual and transgender community.
Another big topic of discussion for GaDuGi staff is how to define consent. "At presentations, I get a lot of what-if-this-happened, hypothetical scenarios," Gadd-Nelson said. "Really, the heart of it is, if you felt like it was nonconsensual, it was nonconsensual."
GaDuGi's victim advocates frequently have to help victims work through the grieving process that comes with justice not being served. "For the state to press charges, it needs enough evidence to think it's going to win the case, which most times doesn't happen and charges don't end up getting filed," said victim advocate Ashley Arenholz. "If they do, usually it gets plead out because they don't think they're going to win at trial."
But prosecuting sexual violence cases is inherently difficult, the GaDuGi staff acknowledges. For one, often the only other witness is the suspect. "And the way our bodies work and the nature of sexual violence, there isn't always going to be a lot of evidence to collect in the first place," said Jared Konecny, the rural and underserved victim advocate. In addition, Kansas, like many other states, has a backlog of rape kits.
GaDuGi's volunteer advocates man the after-hours crisis hotline and sometimes report to the hospital to support victims through the intensive evidence-collection process. Both can be harrowing experiences.
"If I could, I would just take on the pain that the callers are feeling so they don't have to feel it anymore," said volunteer advocate Rachel Bullock, a junior human biology major at KU. "But knowing that I can, in any way, make a person feel a little lighter or help them see that the world isn't all that bad at a time when it seems like hell on earth ... wow, what a blessing."
GaDuGi tailors its services to each of client's specific needs. "Someone who was assaulted last night might need more crisis intervention than someone who was assaulted 50 years and needs to understand how to deal with emotions that have surfaced," said Chrissy Heikkila, the center's executive director. "We work really hard to know that everybody's going to be a different place in their dealings with sexual violence."
Besides advocating for victims, GaDuGi SafeCenter will continue to spread awareness about sexual violence in the hopes of breaking the taboo that often prevents more discussion on the topic.
"It's a hard thing to talk about: sexual violence and the rape culture," said Gadd-Nelson. "But we have to vocalize and articulate these issues. That means it's going to get easier and easier to talk about. And hopefully sexual violence can be prevented if we talk about it more."
Copyright 2018 The Lawrence Journal-World. All rights reserved. This material may not be published, broadcast, rewritten or redistributed. We strive to uphold our values for every story published.