About this story
Micki Chestnut is communications director for the United Way of Douglas County, which provides occasional features spotlighting local volunteers and charities supported by the United Way.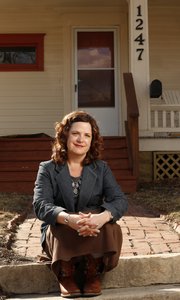 Tears. That's what Nickie Daneke, the director of emergency assistance for Catholic Charities of Northeast Kansas, remembers when she told the domestic violence survivor that she and her three children had been approved for housing. Tears of joy, tears of exhaustion, tears of relief.
"'Betty' had left her abusive husband after years of abuse to her and children," said Daneke. In her hasty flight to the Willow Domestic Violence Shelter, she was unable to bring any belongings, including key documents such as birth certificates and Social Security cards. Her husband never allowed her to have access to money, so she was broke.

"Her husband later destroyed the residence, where her name had been on the lease, which damaged her credit and rental history," Daneke added. All these factors pooled together made it difficult for this survivor to find housing.
This story is all too common. Once women muster the courage to leave their abusive homes, they often have difficulty securing a new place to live. This obstacle, combined with all the other challenges that go with surviving domestic violence, seems insurmountable to many women, and they decide to go back to their abusers rather than risk being homeless.
"The lack of affordable housing, many times, will be the barrier for a woman leaving an abusive relationship," said Joan Schultz, the executive director of the Willow. "So the ability to find affordable housing they can sustain is extremely important to their safety and their children's safety. Many times it is this first success that is key to them finding success in the long term."
Armed with a toolkit that includes resources from the federal Homeless Prevention and Rapid Re-Housing program and the United Way, staffing support from a United Way AmeriCorps member, and connections with other United Way community partners working collaboratively on the Self Sufficiency Community Goal, Daneke is seeing tremendous results. Since Dec. 1, Catholic Charities has housed 15 homeless families from the Willow, the Lawrence Community Shelter and Family Promise.
"Those success stories are extremely important," Schultz said. "The atmosphere in the shelter changes when someone tears down the barriers to self sufficiency, and housing is the most important piece in the puzzle. It brings hope."
Finding affordable housing is not the only challenge that keeps people from moving from crisis to stability, said Erika Dvorske, president and CEO of the United Way of Douglas County.
"When we asked our community partners funded under the United Way's Self Sufficiency Community Goal what it takes for people to be self sufficient, we heard housing, employment and a safety net that assures people in crisis bounce back," Dvorske said. "Through our partnership with the Willow, Catholic Charities and other groups that serve people in crisis, United Way supports all three of these areas."
For example, the Willow is harnessing United Way funds to provide job readiness services specifically designed for survivors of domestic violence, including resume building, assistance with job searches, safety planning around job maintenance and transportation to interviews. In 2013, these resources helped 44 domestic violence survivors find full time employment and 13 retain their current jobs.
Catholic Charities served 2,033 people in 2013, providing everything from one-time assistance to ongoing strengths based case management, which includes working with individuals to develop a self sufficiency plan that maximizes their strengths and incorporates their life goals.
"The United Way is excited to bring these partners together to assure greater success for domestic violence survivors and all others in our community who are moving toward self sufficiency," Dvorske said. "From investing in the work of these organizations to creating fertile ground where the agencies can meet together regularly and share ideas that allow them to serve more people, more efficiently, we are working to see that domestic violence survivors have the chance at a whole new life."
Copyright 2018 The Lawrence Journal-World. All rights reserved. This material may not be published, broadcast, rewritten or redistributed. We strive to uphold our values for every story published.