Contact KU and higher ed reporter Sara Shepherd
Have a tip or story idea?
---
More stories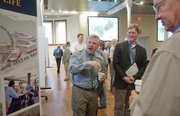 Kansas University's master plan took more than a year to create, less than a week to unveil, and will take a decade to implement, assuming all the university's hopes come to pass and that it can raise the millions necessary to carry out development projects.
At a campus forum on Friday at Spooner Hall, KU Chancellor Bernadette Gray-Little said dozens of meetings and focus groups, as well as public forums like Friday's, went into drawing up designs and concepts. Friday's event followed a presentation of the plan to the Kansas Board of Regents earlier in the week.
On Friday Gray-Little called the plan "the most comprehensive and, I would suggest, the most ambitious" master plan the university has produced.
It's also the first master plan generated since 1997 and only the fifth since 1907. This one aims to be a "living document," updated every one or two years.
That could make life easier for campus planners in the future. Barry Swanson, associate vice provost of campus operations and chair of the master plan steering committee, said countless hours went into coordinating the plan's creation. The genesis of this plan, he said, "is the beginning of a never-ending process."
Many of the projects the plan outlines are still gleams in the eyes of top KU administrators, others are closer at hand. Among the ambitious proposals is a quest to erase the distinction between KU's east and west campuses.
But uniting east and west campus is not an easy thing to do when you have a major thoroughfare running between them in Iowa Street.
David Stokes, a project manager with Jeffrey L Bruce & Company, a Kansas City-based landscape architecture firm that consulted on the plan, said that can be partly accomplished with pedestrian-friendly crossings over Iowa Street as part of the Jayhawk Trail, a proposed pedestrian and bike route that would connect the northeast corner of campus to the southwest.
Also connecting the two campuses would be a ribbon of new science and technology-focused buildings called "Innovation Way." The estimated $800 million project would stretch from the natural science buildings on main campus to the pharmacy school on West Campus.
KU officials said they are seeking public-private partnerships to leverage funds for the project.
Copyright 2018 The Lawrence Journal-World. All rights reserved. This material may not be published, broadcast, rewritten or redistributed. We strive to uphold our values for every story published.