Contact KU and higher ed reporter Sara Shepherd
Have a tip or story idea?
---
More stories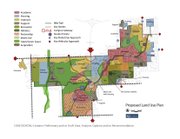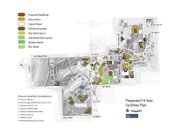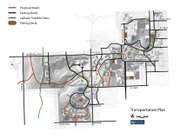 Kansas University held open forums today to give the public a glimpse at the most recent blueprint for the future of its campus.
Reflecting the rapidity of change in the modern world, officials are making the fifth campus master plan since 1907, and the first since 1997, a document that can be updated as the university and world around it change.
The current draft of the plan proposes ways for KU to expand to the western regions of its Lawrence campus, increase mobility throughout the university, better link its east and west campuses and boost research activities by grouping facilities closer together.
To help with the plan, KU contracted with Norfolk, Va.-based architecture and planning firm Hanbury Evans Wright Vlattas & Co for $1.17 million, along with other consultants. The planning process began with the broad collection of data. That included an inventory of university facilities that found KU had 5.7 million feet of assignable space currently, about 130,000 square feet short of what it should have when compared to national standards.
Projecting 12 percent growth in student enrollment over the next 10 years, planners have looked at how the university could create 600,000 more square feet on the campus and increase research space by 40 percent over the next 10 years.
By noon today, the open forums on the master plan at the Kansas Union showed better attendance than two previous rounds of forums this year, said KU spokesperson Gavin Young. This was the last round of public discussion before the planners return to the draft to refine it and then present the plan to an executive committee, including the chancellor and provost, which will ultimately approve it.

Looking ahead
Space available on campus is finite, and not all square feet of undeveloped land on campus are equal. That's where the planners come in, identifying the best places for the university to grow as well as green spaces and historic sections that should be kept more or less as they are.
James Modig, the university architect and director of Design and Construction Management at KU, said that campus has most recently been growing in its southwest arm. As campus development veers west, the trick for planners is to make KU's West Campus seem and feel less like a detached netherworld.
"If we're thinking of ourselves as one campus, how do we evolve into that campus?'" Modig said.
One possibility was outlined in red by the planners on a road map of the Lawrence campus. The red line represents a possible roadway that connects Kasold and Bob Billings streets to Irving Hill, bridging the east and west parts of the Lawrence campus.
Another possibility to increase mobility between and through campuses is dubbed "Jayhawk Trail," designed to give foot and bicycle travelers an easier throughway across the entire campus, from its northeast corner into West Campus, where it would branch in three directions.
The development of West Campus also would create an "Innovation Way," a corridor of research buildings that would encompass the expanded engineering campus and revamped Lindley Hall, and stretch on into West Campus.
West Campus already houses several applied-research facilities and could come to include more. One possibility: a "translational science" research park, devoted to partnerships with industry and to turning research into marketable products.
Impact of development
All the potential new people, roads and buildings would come with environmental impact. Michael Berry, a principal and engineer with the Topeka office of Professional Engineering Consultants, said the university could reduce that impact through energy efficiency measures. One such measure would use waste heat from the process used to chill water for air conditioning units to help provide hot water for campus.
Water runoff issues also are a perennial problem for campus and the city around it. With so many surfaces on campus that don't absorb water (brick and limestone buildings, paved roads and parking lots and so forth), rainwater and snowmelt runs from the university, which sits on a ridge, down into the Kansas and Wakarusa watersheds on either side of it.
That not only creates hassle and sometimes even flooding issues for the people below, but it also costs the university money because the city charges KU for its runoff waste. To help the university retain more water, Berry and the master planners are looking at a host of water-catching solutions, including grass swales and retention ponds scattered across campus.
"Living document"
The KU master plan largely is a collection of general principles and specific, though not necessarily binding, proposals called for and made necessary by the proposals in KU's long-term strategic plan, Bold Aspirations.
Recent development, such as the new engineering building LEEP2 and the Multidisciplinary Research Building, were not necessarily accounted for in the 1997 plan but were designed and built anyway.
That is why Modig said the new master plan will be a "living document," one that can be reviewed and updated every few years (as opposed to every few decades) to keep up with the changing campus.
Copyright 2018 The Lawrence Journal-World. All rights reserved. This material may not be published, broadcast, rewritten or redistributed. We strive to uphold our values for every story published.