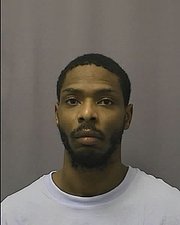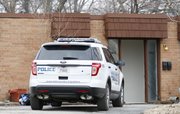 Lawrence police arrested a Lawrence man on suspicion of first-degree murder in connection with the early morning shooting death of a man at his apartment.
Sgt. Trent McKinley, a Lawrence Police Department spokesman, said police arrested Dustin D. Walker, 29, shortly after 9 a.m. Investigators had detained two people for questioning after police were sent to the 2400 block of Cedarwood Avenue for a reported shooting at 3:10 a.m.
McKinley said the victim, Patrick Roberts, 39, died after being taken to Lawrence Memorial Hospital. McKinley said Roberts lived at the apartment with several other people.
The story was originally reported by Journal-World partner Operation 100 News.
McKinley said at least two people are thought to have participated in the disturbance, which included multiple shots fired, one of which struck Roberts in the chest.
Several relatives who lived with Roberts were present during the shooting, McKinley said. McKinley said Saturday it was still too early to tell how many people were involved in the incident and whether Roberts knew them.
"If they were known to him," McKinley said, "I don't think the individuals over there were invited guests."
Operation 100 reported that one of the people detained ran from an officer near 27th Street and Redbud Lane and was apprehended at 4:25 a.m.
McKinley said the second person brought in for questioning had been released Saturday morning and that police were still looking for information about how many people accompanied Walker to the apartment. A minimum of two people were seen fleeing the scene, he said, but more could have been present.
"We made an arrest, but we certainly have much work to do," McKinley said. "We really don't know how many people were there."
Walker has several prior convictions in Douglas County: a 2008 conviction for aggravated battery and two 2012 convictions related to a DUI and fleeing a law enforcement officer.
A jury acquitted Walker in 2011 on charges connected to his alleged role in a December 2010 shooting at South Pointe Apartments, 2310 W. 26th St. Walker was charged with attempted second-degree murder and possessing a firearm as a felon after Darrick Dew was shot during a large party at an apartment. After the verdict, Douglas County District Attorney Charles Branson said the lack of cooperation by witnesses had hindered prosecutors' ability to present a full case.
In 2008, Walker was also suspected in a shooting and robbery at a Lawrence apartment that resulted in a Lawrence man being shot in the leg. But in 2011, Douglas County prosecutors dismissed the case before it went to trial. Branson said afterward that both the victim and witness were unable to recall the incident, again prohibiting prosecutors from being able to proceed with the case.
Roberts, meanwhile, was due to return to Douglas County District Court on March 18 for a first appearance after an arrest earlier this month on suspicion of felony drug paraphernalia and distribution charges. The arrest stemmed from a November investigation in which more than 1,850 grams of marijuana were seized from his home. Roberts was booked into Douglas County Jail and later released on a $5,000 bond on March 4.
McKinley said Saturday that police were still investigating whether that case and Saturday's homicide were connected, but that a motive is still unknown.
Anyone with information is asked to call Lawrence Police at 830-7400 or the Douglas County CrimeStoppers at 843-TIPS (8477).
Copyright 2018 The Lawrence Journal-World. All rights reserved. This material may not be published, broadcast, rewritten or redistributed. We strive to uphold our values for every story published.