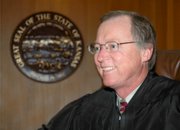 The Douglas County District Court has announced that District Court Judge Michael J. Malone will retire from his position late this summer, but he will still serve a role within the Kansas judicial system.
After 32 years on the District Court bench, Malone will give up his seat after accepting a contract with Kansas Chief Justice Lawton Nuss to serve as a senior judge starting Sept. 1.
Malone said senior judgeships are a form of semi-retirement that Kansas' chief justice offers to retiring judges. Senior judges then serve in the judicial system on the district or appellate courts as needed for two years.
Malone said though he is technically "retiring," he will have a full docket when he begins as a senior judge in September.
"I don't consider myself retired from the judiciary system," Malone said. "I will continue to serve in a job I love but at a different level and in a different way."
Malone has had previous experience working with the Kansas Supreme Court, having been appointed several times to sit with the state court to consider appeals. Earlier this year, the Journal-World reported Malone sat with the Kansas Supreme Court to hear oral arguments in a Johnson County murder case appeal on Jan. 30.

Aug. 29 will be Malone's final day in the District Court office. He has been with the District Court since 1982. Before his appointment —at age 34 — to the Seventh Judicial District bench in Lawrence by then-Gov. John Carlin, Malone was in private practice as an attorney and had also served as Douglas County district attorney from 1978 to 1982. He is a 1973 graduate of the Kansas University School of Law.
Malone said he and his wife will continue to live in Lawrence.
"It was a difficult decision (to retire.) I love this community," Malone said. "I wouldn't leave; the community has been too good to me."
Copyright 2018 The Lawrence Journal-World. All rights reserved. This material may not be published, broadcast, rewritten or redistributed. We strive to uphold our values for every story published.