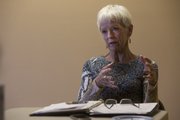 Death is inevitable. Talking about it isn't. The Lawrence Death Cafe hopes to change that.
The group, which started meeting monthly earlier this year, aims to provide a comfortable environment for discussing mortality.
Organizers are quick to note that the death cafe is not a grief support group or in any way morbid, but rather a safe place to share your thoughts on dying, death and the afterlife — with refreshments.
At a recent Saturday meeting of the Lawrence Death Cafe, held in a Pilates studio in west Lawrence, the chatter flowed from end-of-life planning to suicide to the animated film "How to Train Your Dragon 2."
"Once the conversation gets going, it's hard to stop," Constance Whiston said in opening the discussion.
Whiston, 65, brought the idea to her hometown of Lawrence after attending the Kansas City Death Cafe. She has been on a lifelong spiritual quest, she says, a reaction to her strict Baptist upbringing.
The death cafe concept itself came from the mind of Swiss sociologist Bernard Crettaz, who wanted to lessen the taboo surrounding death. The idea was formalized by a spiritually minded Englishman and his psychotherapist mother and has since spread to nearly 1,000 locations in 19 countries. The Lawrence Death Cafe is believed to be the first and only of its kind in Kansas.
"I feel like here in the United States we're running from it," Tammy Sabol, 53, said about death.
That leaves many people unprepared for the end of life, she said, causing them to live out their final months, say, breathing through a tube in a hospital bed. Attendee Kathy Cook, of Lawrence, said she opted not to go into the medical field for that very reason: She wasn't sure if she agreed with the philosophy of keeping people alive at any cost. "So I decided to be an art major," said Cook, 37.
To attend
The Lawrence Death Cafe meets one Saturday afternoon per month at various locations. For time and location info, visit Lawrence Death Cafe's Facebook page.
Vicki Julian, a Lawrence writer, gave the group copies of a document she created to help with end-of-life planning: It included spaces to fill out everything from where you put your safety deposit box keys to what bills you have on automatic debit. "My husband had done such a good job of preparation I wanted to make sure I passed that on to my sons," said Julian, 63, who sent her husband's ashes into space two years ago as part of a private rocket launch.
Sabol, an aspiring writer from Lawrence, recalled a conversation she had with her son, who was 8 at the time, after he read a book in school about death. "I said, 'What do you think happens when you die, Jackson?' He said, 'I think when you go up, you get to decide what you want to come back as. If you're done being a person, you get to come back as a dog. If you don't want to do that you can come back as a horse. If you don't want to do that, you can come back as an angel.'"
"At 8, this thought process was going on," Sabol said. "I think it's with us all the time. You can't have life without death in your life."
Whiston, though, wondered how young is too young to grapple with mortality. She said she recently brought her 6- and 8-year-old grandkids to a showing of "How to Train Your Dragon 2" and questioned if it was appropriate that the film depicted the death and funeral of the hero's father. Sure enough, after the movie Whiston's 6-year-old asked her what that was all about. Whiston said she tried to explain as best she could, but her granddaughter remained confused.
One thing the nine women at the recent Lawrence Death Cafe had in common was that they all seemed to be searching. For the right faith. For the answers on what comes next. For, well, the meaning of it all.
But the group didn't invite easily labeling — there was a Wiccan next to a devout Lutheran next to a self-proclaimed clairvoyant. Some of them could safely be described as free spirits, while several were interested in the metaphysical realm. A few seemed to be trying to come to terms with their own mortality.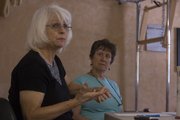 "I'm 85, so I'm very interested in death these days," said Barbara Jean Umholtz, a retired Lawrence Public Library employee. "I've been so busy trying to live and survive up until this point, so I haven't thought a lot about it."
"I'm getting older. I'm in the last third of life. It's not extremely far away," said Bonnie Uffman, a 68-year-old semi-retired psychotherapist from Lawrence. "It's a question maybe I think about more personally now than I did in my earlier years."
Sabol told the story of how her father lost his faith in God after a near-death experience where he flat-lined and saw nothing.
"How did he know he was dead if there was nothing there?" Whiston asked.
"He saw nothing. There was no light. They told him he had died," Sabol said.
"And there was nothing?" Whiston asked.
"There was nothing," Sabol said. "But do we put that out there for ourselves where we are going? Is that light the spirit we left behind? That type of stuff fascinates me. ... I want to know what people are experiencing, what their journeys are. We're all going to the same place."
"Or are we?" Lawrence Pilates instructor K.C. Bushnell, 32, said, to laughter.
Copyright 2018 The Lawrence Journal-World. All rights reserved. This material may not be published, broadcast, rewritten or redistributed. We strive to uphold our values for every story published.