With the way the Kansas University men's basketball players behaved at certain times Sunday afternoon, you'd have thought one of them just nailed a winning buzzer-beater or manhandled an opponent on a crushing dunk.
But the Jayhawks were just reacting to the exploits of about 100 Special Olympians, who joined the team at the Allen Fieldhouse for a shootaround in the 30th annual Wilt Chamberlain Special Olympics Clinic.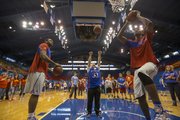 Every year, about 10 Special Olympics teams from across the state get to run all kinds of drills with the Jayhawks. Teams from Olathe, Ottawa, Douglas and Wyandotte counties, among others, made the trip this year. The event is organized in part by Special Olympics Kansas.
To commemorate the 30th year of the clinic, which began during the Larry Brown era in 1984, KU head coach Bill Self was awarded a plaque bearing photos of himself, Brown and former head coach Roy Williams, who also continued the tradition during his reign, with Special Olympians.
Chevi Peters, a member of the New Hope Services of Pittsburg team, and Bekah Henderson, the 2012-13 Big 12 Special Olympian of the Year and member of the Topeka Jr. Blues, presented the plaque to Self prior to the clinic.
"Thank you for being cool and spending your Sunday afternoon with us," Peters said through a microphone. "Rock Chalk!"
Olympians then split into groups, where they rotated among stations headed by KU players performing different drills. Among them, Naadir Tharpe worked at a layup station, Perry Ellis guided participants through free throws, Frank Mason manned dribbling exercises and Andrew Wiggins oversaw a finish-at-the-rim drill.
There were plenty of high-fives, cheering and general clowning around in between.
"Today is our day off, but our guys are always juiced to be a part of this," Self said. "It's amazing to me, I think that we get as much out of it as the [Special Olympians] do."
The clinic began less than 24 hours after the Jayhawks topped TCU on the road, 91-69, Saturday night. At the clinic last year, KU came off a home loss to Oklahoma State, so this year the Jayhawks didn't need any cheering up.
"Last year we came in here and they gave us a bit of energy and made us feel better and helped us turn it around," forward Jamari Traylor said. "So this year we're just going to bring it for them and have fun in here."
Copyright 2018 The Lawrence Journal-World. All rights reserved. This material may not be published, broadcast, rewritten or redistributed. We strive to uphold our values for every story published.