Contact KU and higher ed reporter Sara Shepherd
Have a tip or story idea?
---
More stories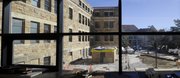 After clearing another set of bureaucratic hurdles, Kansas University's Studio 804 is ready to begin putting in place the first pieces of a new addition to Marvin Hall.
The addition will house the KU School for Architecture, Design and Planning's first-ever lecture room and commons area at its home in the 105-year-old Marvin.
Studio 804, a year-long workshop that takes students from the design of a building through construction, began the project last fall.
On Friday the school celebrated what architecture school dean John Gaunt described as a "symbolic groundbreaking" at the Lied Center Pavilion. The school hosted the Studio 804 students, faculty, alumni, KU administrators and potential donors to learn about Studio 804's work so far and the building soon to be.
It was good timing, too, Gaunt said. "They got the go ahead from Topeka. They're all clear on codes. The students are ready to dig in," he said.
Dan Rockhill, a KU distinguished professor of architecture and Studio 804 director, said in an interview the Studio 804 team laid the foundation for the Marvin addition, dubbed "The Forum," shortly before Christmas.
Foundation work had been delayed by waits for permits. When the team eventually got the green light, "it was just by the skin of our teeth, because then the cold weather came in," Rockhill said.
After Christmas and a cold snap, construction stalled again while the team waited for another permit, this one for the building's frame. Rockhill said the delay was painful, but the team might have been delayed anyway by water mains they found that had to be relocated.
The mains were yet more relics of Marvin's myriad infrastructure, much of it ancient and convoluted, that have nagged Studio 804 since breaking ground.
In the meantime the team kept busy doing shop work. Rockhill and students have been fabricating doorknobs, handrails and other smaller features of the building that generally come later in the process. The concrete columns and beams that will support the structure have already been fashioned and are "poised and ready to go," Rockhill said.
At Friday's event, Rockhill said that the Marvin addition was Studio 804's biggest project in its nearly 20 year history. "These students are all dedicated, and they have to be."
Copyright 2018 The Lawrence Journal-World. All rights reserved. This material may not be published, broadcast, rewritten or redistributed. We strive to uphold our values for every story published.