A former state secretary of agriculture told a Lawrence audience on Sunday that the people of eastern Kansas have good reason to be concerned about water supply issues and the depletion of the Ogallala Aquifer in western Kansas.
"Because the state runs downhill from western Kansas to eastern Kansas, is the simplest answer," said Josh Svaty, who is now a vice-resident at the Land Institute, an agricultural and environmental research center based in Salina. "And as everybody in water says, 'I'd rather be upstream with a shovel than downstream with a piece of paper'."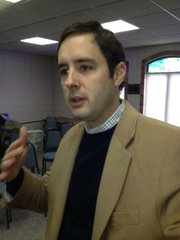 Svaty spoke to about 20 people of the EcoTeam at the First Presbyterian Church in Lawrence. That group is part of an interfaith network of environmental groups known as the Lawrence Ecology Teams United for Sustainability, or LET-US.
The Ogallala is a vast network of underground water locked in the porous limestone deep below the surface in the High Plains region of the United States. It stretches from Wyoming and South Dakota to the Texas and Oklahoma panhandle regions, and is the primary source of fresh water for the entire area.
Roughly 90 percent of the water is used for irrigation to grown corn, soybeans and milo, which are used as feed grains for the livestock industry.
"Think about the economy that transfers to eastern Kansas, coming out of western Kansas," Svaty said. "The beef industry obviously is very important to Kansas, but a huge amount of that industry is based, or has large footprints, in eastern Kansas, especially around Kansas City and Johnson County. ... The agriculture in Kansas has always been transferred from west to east, where it's stepped up in terms of trade and becomes more valuable."
Since large-scale irrigation began in western Kansas in the 1970s, Svaty said, water levels in some areas have declined rapidly. He said central-west Kansas, around Scott City and Tribune, is already considered a "dead zone" and irrigation there has all but ceased.
In southwest Kansas, where the feedlots and processing plants in Garden City, Liberal and Dodge City are based, there is more water available, but farmers pump vastly larger amounts, and pumping consumes more energy because the water is deeper below the surface.
In northwest Kansas, around Colby and Goodland, some land owners have formed "Local Enhanced Management Areas," or LEMA's, as part of a voluntary effort to control and manage the depletion of their wells.
But he said few people in western Kansas even speak of halting the depletion. Rather, he said, they talk about "managed decline."
"Some people out there complain that they are the only mining interest in the state that is not allowed to mine out all of their resource," Svaty said.
Svaty is a fifth-generation farmer who grew up in Ellsworth County. Before he was named Secretary of Agriculture in 2009 by then-Gov. Mark Parkinson, he served three terms in the Kansas House of Representatives.
Founded in 1976 by Wes Jackson, an early advocate of sustainable agriculture, the Land Institute conducts research and promotes the use of perennial crops, hybrid forms of grains and legumes that do not require tilling and replanting every year.
Svaty noted that those crops not only require less water, but are also better able to adapt to changes in the Kansas climate.
Copyright 2018 The Lawrence Journal-World. All rights reserved. This material may not be published, broadcast, rewritten or redistributed. We strive to uphold our values for every story published.