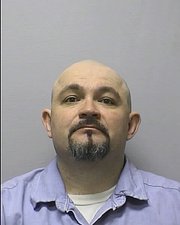 A Douglas County judge heard more pretrial motions Friday in the case of a man accused of raping a Kansas University student in 1997.
Robert E. Grey is scheduled to stand trial May 1. In 2012, a Kansas Court of Appeals panel overturned his 2009 conviction for the offense after it found that prosecutorial misconduct deprived Grey of a fair trial. Grey, who was sentenced to 26 years in prison, remains in jail on a $500,000 bond. Judge Michael Malone denied several motions to dismiss the case at another pretrial hearing earlier this month.
Much of Friday's hearing focused on whether to allow a jailhouse informant to testify against Grey at trial. Defense attorneys argued that the informant was "an agent of the state," and that the entire case should be dismissed because he revealed, in letters to the district attorney's office, details of privileged attorney-client conversations between Grey and his counsel at the Douglas County Jail.
Prosecutor Eve Kemple, however, said the state has yet to decide if it would call the informant as a witness at trial, and, if it did, he would only testify about conversations between him and Grey. In those conservations, she alleged, Grey revealed details of the crime only the perpetrator would know. The defense, meanwhile, argued that the informant received information about the crime when he was interviewed by a police detective. Malone did not decide on that motion Friday.
Another motion concerned whether to allow testimony from a former partner of Grey's that he owned a handgun even though that evidence was excluded at a previous hearing. Malone said that wouldn't necessarily exclude the testimony from the upcoming trial. Grey has denied ever owning a handgun, while the victim has asserted that Grey had one at the time of the alleged rape.
Prosecutors accused Grey of kidnapping a 20-year-old KU student in her car in the Naismith Hall parking lot in 1997, driving her to an area near Lawrence High School and attacking her there. He was arrested and charged in 2007 after investigators found a match to a fingerprint found on the victim's car. Grey's conviction was overturned after a state appeals court panel said the 2009 case's prosecutor, Amy McGowan, failed to disclose some evidence to the defense, including the fact that the victim identified Grey as her attacker after earlier suggesting she could not.
The pretrial conference will continue 9:45 a.m. Tuesday.
Copyright 2018 The Lawrence Journal-World. All rights reserved. This material may not be published, broadcast, rewritten or redistributed. We strive to uphold our values for every story published.