Lawrence crime, fire, courts coverage
Have a tip?
Contact Journal-World reporter Caitlin Doornbos: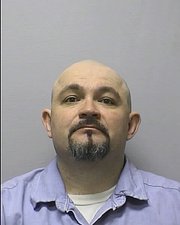 A 40-year-old man will go on trial in January for a second time after his conviction was overturned in a 1997 Lawrence rape case.
Robert Grey was bound over for trial again on a rape charge after a preliminary hearing in Douglas County District Court last week. He is being held in Douglas County Jail, with bond set at $500,000, while he awaits trial.
Grey wassentenced to 26 years in prison after his 2009 conviction in the 1997 rape of a Kansas University student. Prosecutors accused him of kidnapping the 20-year-old woman in her car at gunpoint from the Naismith Hall parking lot, driving her to a secluded area near Lawrence High School and attacking her there.
Grey was not arrested and charged until 10 years later, after investigators used an FBI database to link a fingerprint from the car to him. Police also obtained Grey's DNA.
Last year, a Kansas Court of Appeals panel awarded Grey a new trial after finding that prosecutorial misconduct deprived Grey of a fair trial. The appellate court said Amy McGowan, a chief assistant district attorney who prosecuted the 2009 case, erred in failing to disclose some evidence to the defense, including the fact that the victim identified Grey as her rapist after earlier representing that she could not. The judges said they found no evidence that the prosecutor deliberately lied.
Earlier this year, McGowan was removed from her cases and assigned to other duties after the Kansas Supreme Court faulted her for other errors in several trials from 2007 to 2009.
District Judge Peggy Kittel, who tried the 2009 case, said the issues in Grey's appeal did not negate the fact that prosecutors had fingerprint and DNA evidence in the case. Prosecutors have said they were confident they could win a conviction at a new trial.
Grey is scheduled to go to trial on Jan. 13.
Copyright 2018 The Lawrence Journal-World. All rights reserved. This material may not be published, broadcast, rewritten or redistributed. We strive to uphold our values for every story published.