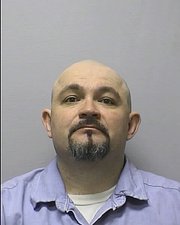 A second trial will proceed next month in the case of an alleged 1997 rape of a Kansas University student after a Douglas County judge denied multiple motions to dismiss the case on Wednesday.
Robert E. Grey will stand trial again May 1. In 2012, a Kansas Court of Appeals panel overturned his 2009 conviction when it found that prosecutorial misconduct deprived Grey of a fair trial. Grey, who was sentenced to 26 years in prison, remains in jail on a $500,000 bond.
Grey was arrested and charged in 2007 after investigators found a match to a fingerprint found on the victim's car. Prosecutors accused Grey of kidnapping a 20-year-old KU student in her car in the Naismith Hall parking lot, driving her to an area near Lawrence High School and attacking her there.
Grey's conviction was overturned after a state appeals court panel said the 2009 case's prosecutor, Amy McGowan, failed to disclose some evidence to the defense, including the fact that the victim identified Grey as her attacker after earlier suggesting she could not.
On Wednesday, District Judge Michael Malone denied multiple motions to dismiss the case filed by Grey's defense, which is being led by Angela Keck and Branden Smith.
Grey's defense moved that the decadelong delay between the alleged offense and Grey's arrest denied him due process and prevented him from being able to properly defend himself.
During previous hearings, the defense also questioned why Grey's prints did not register a hit in the FBI's database until 10 years later. Malone ruled Wednesday that exhaustive testimony by an FBI official explained the delay. Malone referenced testimony regarding the poor quality of the print found on the car and testimony that the match occurred after the FBI transferred its unsolved cases into a new database in 2007.
"Improved technology is what caused the match," Malone said. "The state did not cause this delay."
The defense also alleged that Eve Kemple, who now leads the prosecution, destroyed evidence during a meeting between both parties in the district attorney's office in June 2013. The defense argued that an envelope containing a clothing item belonging to the victim had a hole through which debris fell and Kemple swept the debris back into the envelope, tainting the evidence.
On Wednesday, Malone ruled that nothing Kemple did damaged the evidence. Still, Malone said, the viewing should not have happened as it did because Kemple had no formal training in handling evidence. Malone called the viewing careless and described the handling of evidence as "slapdash."
Further motions will be discussed Friday in a final pretrial conference.
Copyright 2018 The Lawrence Journal-World. All rights reserved. This material may not be published, broadcast, rewritten or redistributed. We strive to uphold our values for every story published.