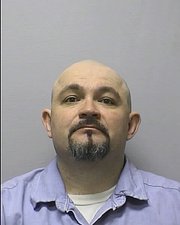 The defense filed a motion in District Court on Monday to dismiss the state's second trial against Robert Grey, a Lawrence man accused in the 1997 rape of a Kansas University student.
Grey was sentenced to 26 years in prison after his 2009 conviction in the case, but last year a Kansas Court of Appeals panel awarded him a new trial after finding that prosecutorial misconduct deprived Grey of a fair trial. Grey is currently being held in the Douglas County Jail on a $500,000 bond.
"It's been a long seven years," Grey said Monday.
Grey is accused of kidnapping a 20-year-old woman in her car at gunpoint from the Naismith Hall parking lot, driving her to a secluded area near Lawrence High School and attacking her there.
District Judge Michael Malone heard arguments at the evidentiary hearing Monday regarding a package of evidence containing the alleged victim's shirt, pants, shoes and bra.
On June 4, 2012, the defense and prosecution for the new trial assembled to view evidence. Assistant District Attorney Evelyn Kemple, lead council for the prosecution, handled evidence with gloves during the meeting. According to her testimony Monday, evidence sat on its packaging, never touching the conference room table.
Angela Keck, Grey's defense attorney, argued that dirt, grass and woodchips taken from the crime scene fell to the table, and Kemple swept it into the package containing the clothing.
Monday, Keck said Kemple had purposefully contaminated the clothing, which the defense had wished to use in order to challenge the alleged victim's version of events.
The evidence in question was viewed in the hearing Monday.
"Kemple knew how exculpatory the evidence was when she placed debris in the clothing," Keck said. "There is no remedy for the contamination, and so we ask to dismiss the case."
Assistant District Attorney Andrew Bauch argued that Kemple did not contaminate the evidence and that there was no ill will shown toward the defense during the viewing of evidence.
"If you want to believe this is intentional conduct, that's probably the stupidest thing I've heard," Bauch said. "It's difficult for me to grasp that in front of the defense, the defendant and a court officer, she would intentionally try to contaminate evidence."
After viewing the evidence in question, Malone said he did not see substantial dirt visible on the clothing.
"It's just tiny flecks of dirt that could have been picked up anywhere," Malone said. "I was expecting a handful of woodchips."
Malone has not yet ruled on the motion. The hearing will continue Tuesday at 9:15 a.m.
Copyright 2018 The Lawrence Journal-World. All rights reserved. This material may not be published, broadcast, rewritten or redistributed. We strive to uphold our values for every story published.