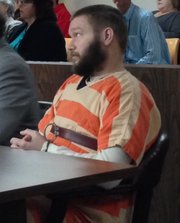 Ottawa — State prosecutors are seeking mental health and prison records of an Ottawa man accused of killing three adults and an 18-month-old child in rural Franklin County earlier this year, according to the defense attorney in the case.
Kyle T. Flack, 28, appeared in Franklin County District Court for a brief hearing today. The subpoenas and a rescheduling of the next hearing in the case were the only matters discussed in a hearing that lasted less than three minutes.
Flack, who wore a thick beard and short hair, is charged with capital murder, first-degree murder, rape and criminal possession of a firearm in the deaths of Andrew Adam Stout, 30, Steven Eugene White, 31, Kaylie Kathleen Bailey, 21, and Bailey's 18-month-old daughter, Lana-Leigh.
Prosecutors today filed subpoenas under seal for undisclosed business records. But defense attorney Ron Evans, head of the Kansas Death Penalty Defense Unit, told the Journal-World he understood those to be Flack's mental health and prison records. Meanwhile, a spokesman for the state's attorney general's office said on Thursday the state would not make public comments about motions filed under seal.
Flack previously served four years in prison for attempted murder in another case. He is being held in the Franklin County Jail in lieu of a $10 million bond.
Deputy Attorney General Victor J. Braden is leading the prosecution in the case. Franklin County Attorney Stephen Hunting is also participating.
In July, Franklin County District Judge Thomas H. Sachse ruled that parties were free to file individual motions under seal, but refused to issue a blanket seal.
Later that month, Sachse ordered that DNA testing could go forward on 13 items that could be introduced as evidence at a trial, which is expected to take place early next year. Those items, however, have not been described publicly, and the order for DNA testing was sealed by the court.
The defense has until Oct. 31 to file a response to today's motions by prosecutors. Sachse said parties will next meet Nov. 26. Another hearing hearing is scheduled for Jan. 14. A two-day preliminary hearing is scheduled for March 11-12.
Flack could face the death penalty for the homicides that occurred in late April and early May. Bodies of the three adults were found May 6 and May 7 on a property at 3197 Georgia Road, about five miles west of Ottawa. Lana-Leigh's body was found days later in rural Osage County.
Copyright 2018 The Lawrence Journal-World. All rights reserved. This material may not be published, broadcast, rewritten or redistributed. We strive to uphold our values for every story published.