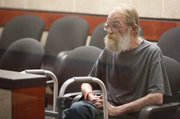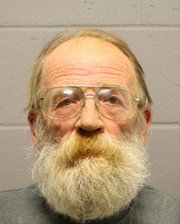 The Douglas County District Attorney's Office charged a 67-year-old Lawrence man Wednesday with one count of first-degree murder in the Tuesday shooting death of his 61-year-old wife.
Lawrence police allege that Larry L. Hopkins shot Margaret Hopkins because of her ongoing health concerns, according to a statement on Wednesday by the District Attorney's Office.
Larry Hopkins, who was arrested Tuesday on suspicion of first-degree murder, appeared via video from the Douglas County Jail to be formally charged in District Court on Wednesday.
If convicted, Hopkins faces a sentence of life in prison without the possibility of parole for 25 years.
District Court Judge James T. George set Hopkins' bond at $150,000 and scheduled Hopkins' next appearance for Nov. 13. Hopkins was also appointed an attorney, Clinton Lee. Before the hearing was adjourned, George asked Hopkins if he had any comments regarding his bond.
"Your honor, even if on my own recognizance, I have no place to go," said Hopkins, who wore a long gray beard and eyeglasses and used a walker.
Lawrence police arrested Hopkins on Tuesday after he was brought in for an interview following a police investigation at his home earlier that morning. Police were called to a reported shooting in the 1600 block of West Second Terrace at 8:45 a.m. At the home, Margaret Hopkins was determined to have died from a gunshot wound.
The case marks the second homicide to take place in Lawrence this year. In July, the shooting death of Gary Edens, 51, was the first homicide since 2008. Brittny Marie Adams, 19, of Topeka, was charged with second-degree murder and remains in Douglas County Jail on a $100,000 bond. She is next scheduled to appear in District Court for a preliminary hearing on Dec. 18.
There have been 18 homicides in Lawrence since 2003 with none in 2012, 2011, 2010, 2009 and 2007.
Copyright 2018 The Lawrence Journal-World. All rights reserved. This material may not be published, broadcast, rewritten or redistributed. We strive to uphold our values for every story published.