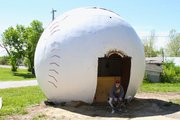 Photo Gallery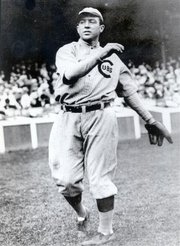 Joe Tinker and Muscotah, Kan.
Tinkers to Evers to Chance
These are the saddest of possible words:
"Tinker to Evers to Chance."
Trio of bear cubs, and fleeter than birds,
Tinker and Evers and Chance.
Ruthlessly pricking our gonfalon bubble,
Making a Giant hit into a double –
Words that are heavy with nothing but trouble:
"Tinker to Evers to Chance."
—By Franklin Pierce Adams, New York Evening Mail July 10, 1910
How to help
Those interested in helping build the Joe Tinker Museum can make tax-deductible donations to the Kansas Rural Community Foundation, which is handling the project funds. For more information, visit www.thekrcf.org/about.shtml, or call 785-456-8444.
Last summer, if you drove the winding Kansas Highway 159 north toward small Kansas towns such as Holton and Horton, you might not have noticed the town of Muscotah, population less than 180.
But an old water tower tank, plunged into the middle of the town like a meteor dropped from another planet, might have caught your eye.
At that time, the defunct water tank was just the start of Muscotah man Jeff Hanson's project celebrating the town's most famous former resident, Chicago Cubs shortstop Joe Tinker, who played for the team when the Cubs won their last world championship in 1908.
Tinker is also the subject of what baseball fans will tell you is the sport's second most famous poem, "Tinker to Evers to Chance," which trails only "Casey at Bat" in baseball folklore.
Hanson's idea was simple but ambitious: Take the water tank, turn it into a giant baseball museum, fill it with Joe Tinker memorabilia, turn his little town into an historic tourist destination, and revitalize the once-prosperous, but now struggling, town of Muscotah.
"The human spirit enjoys a challenge," Hanson, 70, says.
Making progress
A year later, the water tank actually looks like a giant baseball, complete with red laces. Recently, a crew of two dozen descended on the town, working on the project, pouring cement, laying electrical groundwork and creating a quarter-sized baseball diamond surrounding the soon-to-be museum.
"It's been fun to take something from the imagination to reality," said Hanson, showing off the work recently, as his three-legged dog, Lucky, hopped around the miniature baseball diamond.
The idea for the museum came a few years back, when someone in the town remarked that the water tank looked like a baseball. When Hanson learned about Tinker's origins, the quest began.
Hanson is banking the project, which he hopes will revitalize his small town, on the fame of Tinker, who played shortstop for the Chicago Orphans/Cubs between 1902 and 1916 and won two World Series.
Tinker was also part of the famous Tinker to Evers to Chance double play combination, immortalized in the 1910 poem by Franklin Pierce Adams of the New York Evening Mail.
The project has been funded entirely by donations and the support of the Kansas Sampler Foundation, which helps preserve rural life in Kansas.
The idea, said Marci Penner, director of the Kansas Sampler Foundation, is that the attraction will bring visitors, which in turn could bring additional businesses and money to Muscotah, which currently has only one store.
"These things really make a difference," Penner said. "If a community sees something like this happening, it leads to the next thing."
Big plans
The museum could still take some time to complete, that hasn't stopped Hanson from creating a Joe Tinker theme in Muscotah.
Signs throughout the area announce that Muscotah is the hometown of Tinker, and the one baseball field in Muscotah, which overlooks a horse farm, is dedicated to Tinker.
The first "Joe Tinker Day" will be held July 27, both the birthday — in 1880 — and day of Tinker's death — in 1948. Two reenactment baseball teams will compete in an exhibition game at the Joe Tinker Field, in addition to other small town festivities.
"Just an old-fashioned, fun day," Hanson says of the plans.
As he talks about the project, Hanson sprinkles in comments about "reversing the curse," a phrase Cubs' fans recognize as a reference to the team's more than 100-year championship drought.
But Hanson seems less interested in baseball than helping his town.
"He's not a big baseball fan," Penner says. "He's a big fan of Muscotah."
A retired carpenter, Hanson is relatively new to Muscotah, moving here six years ago with his wife, C.J., who grew up there. But that hasn't tempered his enthusiasm for seeing the town grow.
"Wherever you are, you try to make a difference," he says.
Copyright 2018 The Lawrence Journal-World. All rights reserved. This material may not be published, broadcast, rewritten or redistributed. We strive to uphold our values for every story published.