Families and faculty at Veritas Christian School in Lawrence celebrated the graduation of seven students Saturday.
"This class has been a real joy," said Ron Krestan, dean of students. "They're an exceptional group academically, but also in terms of their work ethic and their love for the Lord and the way they've had a servant's heart. They've been a real joy to work with."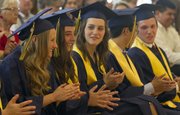 2013 Veritas graduates
The following seniors graduated from Veritas Christian School in Lawrence:
Abigail Bartlow
Madison Bennett
Abigail Bond
Alison Dover
Kristen Finger
Andrew Jewell
Matthew Myers
Veritas, a private parochial school founded in 1978, has only about 130 students in kindergarten through 12th grade. Students and parents say that's part of what makes the school special.
The school began as a school mainly for elementary grades. High school classes were added later, and this year's class is the 10th graduating class from Veritas.
"We feel more like a family," said Alison Dover, one of the graduating seniors. "We've got a great connection with each other."
Her mother, Barbara Dover, agreed.
"The good thing about being in a school like Veritas is being able to be a part of their academic life and their growing-up years," Barbara Dover said.
Abigail Bartlow, one of the co-valedictorians of the class, spoke directly to each of her six classmates during her speech, acknowledging things she had learned from each of them. She also acknowledged the dozen or so students who had come and gone from the class at different stages.
"God has perfectly orchestrated the formation of this class," Bartlow said.
Kristen Finger, the other co-valedictorian and one of the finalists in the Journal-World's Academic All-Star competition this year, called on her classmates to do more than just believe in God, but also to be willing to risk everything when God calls them to service.
"Those who are wise will shine like the brightness of the heavens, and those who lead many to righteousness, like the stars for ever and ever," Finger said, quoting the Bible verse from the Book of Daniel that had been Veritas' theme this year.
Jonnie Finger, Kristen's mother, said the combination of a strong academic tradition and religious instruction sets Veritas apart from other schools.
"We're especially proud of how she's grown up to be a young woman of faith, who understands you don't have to check your brains at the door to be a strong Christian," she said.
Education news
Have a story idea?
Contact Journal-World education reporter Elliot Hughes:
ehughes@ljworld.com
Copyright 2018 The Lawrence Journal-World. All rights reserved. This material may not be published, broadcast, rewritten or redistributed. We strive to uphold our values for every story published.