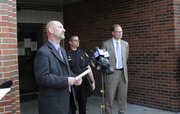 It's been trial by fire for new Franklin County Sheriff Jeff Richards, as he works a quadruple homicide case just weeks after taking over the office in April.
Richards, a U.S. Air Force veteran and former Overland Park Police Department detective, was nominated April 4 for the position by the Franklin County Republican Party, after former sheriff Jeff Curry resigned amid criminal charges.
Just weeks into replacing Curry — who was accused of tipping off the former Franklin County Attorney that she was the subject of a criminal investigation, and then lying to investigators — Richards finds himself giving multiple daily news conferences and facing tough questions about the killings of three adults and a child in rural Ottawa. The case has drawn intense local and national media attention.
In news conferences, Richards has faced criticism his department's handling of the case, including allegations that officers were sent to the location of the homicides Sunday following reports of an unusual odor, but did not find the bodies until an additional call to the property Monday. Richards responded that his office would look into the handling of the case.
Richards also has been asked repeatedly about why his office did not request an Amber Alert earlier in the case to help locate missing toddler Lana-Leigh Bailey. He said the case didn't meet the criteria for an Amber Alert.
Richards has not responded to interview requests from the Journal-World.
Franklin County has seen murders over the years, but the current case the new sheriff is handling is probably the highest-profile crime in decades.
The most recent crime involving this many homicide victims in the county was the 1973 killing of three people just south of Ottawa. That crime remains unsolved.
Copyright 2018 The Lawrence Journal-World. All rights reserved. This material may not be published, broadcast, rewritten or redistributed. We strive to uphold our values for every story published.