The Latest: 9:45 a.m.
Though efforts to locate on person of interest was been cancelled, according Journal-World news partner Operation 100, Franklin County Dispatch announced Flack was arrested Wednesday morning.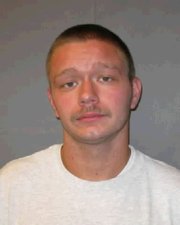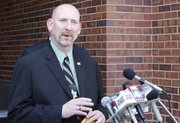 Police searched Tuesday for a "person of interest" in connection with a multiple homicide at a house in rural Ottawa, after a third body, an adult male, was discovered on the property late Monday.
Questions also remain about a missing 18-month-old girl, the daughter of a missing Olathe woman who may be one of the three victims.
Police were looking for Kyle Flack, 27 in connection with the murders, according to numerous reports issued by Douglas County Emergency Dispatch Tuesday afternoon. Police had also been seeking Cyle Bailey, 23, but Bailey spoke to police and they are no longer seeking him, according to a report from KCTV-5.
Tuesday evening, the Franklin County Sheriff's Office issued a statement asking for the public's help in locating a black 2007 Toyota Corolla, license plate number 618 DAA. The passenger side mirror is being held together by duct tape. Earlier dispatch reports stated that Flack might be driving the vehicle.
Flack served four years in prison for the 2005 shooting of Ottawa resident Steven Dale Free, 47, who was found in his front yard with multiple small-caliber gunshot wounds. Flack was convicted in Franklin County of attempted second-degree murder and was paroled in 2009.
Franklin County Sheriff Jeff Richards announced at a news conference Tuesday that a third body was found on the property at 3197 Georgia Road, about five miles west of Ottawa. The announcement followed a Monday evening news conference in which Richards reported that two bodies had been recovered. The victims are two men and one woman, Richards said.
Richards did not release the names of the victims and said police were still working on identifying them. However, friends who discovered one of the bodies said they believed the female victim was 22-year-old Kaylie Bailey, of Olathe. Bailey and her 18-month-old daughter were reported missing May 3 and were last seen May 1. Richards said an Amber Alert for the missing child has not been issued and a child was not found at the property.
Facebook pleadings
The house where the bodies were found is owned by Jackson and Karon Anderson, according to Franklin County property records. Over the past couple of days, Jackson Anderson and his friends have been posting questions on Facebook about the whereabouts of his brother and Bailey.
On Monday morning, Anderson posted: "If someone has seen my brother please say something I am losing sleep over this. Someone has to know!" About 8 p.m. Monday, Anderson posted: "Just got word about my brother." Anderson could not be reached for comment.
Police had checked the property Sunday, after three friends of the occupants visited the house to feed animals and reported an odd smell, Richards said. But the officers did not find any bodies until returning to the property Monday.
Kortni McGill, Ottawa, was one of the visitors who reported the smell, and said she found the female victim in the garage of the home. The body was covered in a blue tarp with a cinder block on top of the head, McGill said Tuesday prior to the news conference.
More than three dozen law enforcement officials continue to work on the case, Richards said. A portion of Georgia Road was blocked off Tuesday morning, as police worked the crime scene.
Anyone with information about the case or whereabouts of Flack is asked to call 888-311-TIPS, or send a text to 274637. Begin with the keyword "franklin" or call the Franklin County Sheriff's Office at 785-242-3800.

Copyright 2018 The Lawrence Journal-World. All rights reserved. This material may not be published, broadcast, rewritten or redistributed. We strive to uphold our values for every story published.