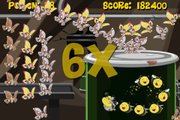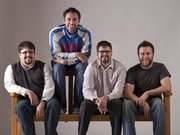 Fourfire Studios, a local game studio, is in a sprint to raise money during the final days of its Kickstarter campaign for "Sticky Bees: Unleashed."
Last spring, Fourfire released the original version of "Sticky Bees" on the iTunes app store.
The game, which is currently available for iOS on iPhones and iPads, is what Matt Cox, creative director for Fourfire, describes as a mixture of air hockey and snake. The player moves a bee across the screen with his finger and honeybees follow along, creating a trail of bees. The player must ram into and destroy enemies like mosquitoes so that none of the bees following the player get hit. The more bees the player has, the more points the player receives on a kill.
Cox says the game did OK during its initial release and was reviewed well, but never really took off in popularity.
Last week, gaming magazine Game Informer featured "Sticky Bees" in an article for its April issue and sales have increased drastically.
"Before, it had been downloaded about 4,500 times, and in the last two weeks we've already seen almost 3,000 downloads," Cox says. "It looks like it's on pace to double what we did in one year in about a month."
Fourfire has wanted to create a sequel to the buzz-worthy game, so to coincide with the attention the game is receiving, the studio created a Kickstarter campaign to see if there was enough interest.
"We want to have things like different weapons and enemies and just a lot more content," Cox says.
Other ideas for the sequel include an in-game store and creating an endless level that speeds up as the player continues and tests how long a player can survive.
To create the sequel, Fourfire must raise about $29,000 to help pay for programming and artwork. As an incentive to get people to donate, the company is offering prizes ranging from a plush Sticky Bee to naming a character in the sequel. As of late last week, the campaign still had a ways to go to meet its goal.
Cox says another reason to support "Sticky Bees: Unleashed" is because Fourfire studios will in turn support the community.
"We're going to give significant portions of profit to charity … We're not going to keep the profits for ourselves; we want to help build the world around us," he says.
The Kickstarter campaign ends April 4.
Copyright 2018 The Lawrence Journal-World. All rights reserved. This material may not be published, broadcast, rewritten or redistributed. We strive to uphold our values for every story published.