Photo Gallery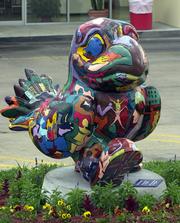 Jayhawks on Parade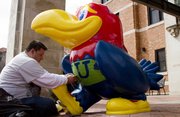 Contact KU and higher ed reporter Sara Shepherd
Have a tip or story idea?
---
More stories
It might seem glamorous, this position: Serve as a Kansas University campus landmark, appear in countless graduation-day pictures, be the object of children's adoration.
But don't kid yourself. It's a tough job being the "Classic Jayhawk" sculpture in front of the Kansas Union.
Over the years, past Classic Jayhawks have been climbed on, knocked over and rolled along the Jayhawk Boulevard sidewalk. Late-night passersby have assumed three-point stances like football linemen to try to knock it over, according to video footage.
But KU Memorial Unions staff are confident that the third edition of the Classic Jayhawk, due to be completed this month, will be up to the task.
"We knew we were going to have to do something with it to make it more sturdy to put up with all the love it got," said Mike Reid, a spokesman for the Memorial Unions.
This new Jayhawk sculpture looks nearly the same, but inside it's an entirely different bird from its hollow fiberglass predecessors.
This new sculpture, plus a three-foot-deep underground column serving as its anchor, is filled with about three tons of concrete and steel rebar. Anyone who tries out the old three-point-stance move is in for a rude awakening.
And if history is any indication, the new Jayhawk will need to be ready to withstand a lot of "love."
The Classic Jayhawk has stood in front of the Kansas Union's main entrance since 2003, when it was one of 30 5-foot-tall fiberglass Jayhawk sculptures decorated with various themes as part of a "Jayhawks on Parade" fundraiser for the Lawrence Convention and Visitors Bureau. This one was painted in the traditional crimson, blue and gold of the KU mascot, with the letters "KU" adorning its chest.
But when the promotion ended and the Unions took ownership of the bird, it became clear that to leave it in such a well-trafficked spot would pose some challenges.
"They were never intended to be permanent," former Memorial Unions engineer Wayne Pearse said of the "Jayhawks on Parade" sculptures.
Since then, the Jayhawk has become a campus fixture, promoted by KU as a spot for graduation photos. But it also became a magnet for vandals and troublemakers.
The first Classic Jayhawk had to retire after vandals knocked off its perch and rolled it on the pavement in December 2005, cracking its body beyond repair. One man was arrested that night when he returned to the scene to retrieve a dropped wallet, leading a KU spokesman to crack that "a Mensa membership card was not in the wallet."
A replacement with stronger legs went into place, but it, too, fell victim to trouble.
In April 2011, the sculpture was knocked over again. While police were talking to two suspects, dispatchers received reports that three other people were trying to walk away with the untethered bird.
Classic Jayhawk 2.0 received its knockout blow in December, Reid said, when someone again knocked it over and cracked off its legs. It joined its predecessor in the Kansas Union basement for its retirement years.
But this time, the Unions had a replacement Jayhawk waiting in the wings, with a plan to keep it in place.
"We knew that was coming," Reid said of the final blow.
Since January, Unions staff have worked to install the new, hardier sculpture. A contractor came in to paint it with an updated "KU" typeface. Union maintenance workers sawed off the back of the bird's head to fill it with concrete and rebar.
Altogether, the cost of the new Classic Jayhawk was $5,600 plus internal labor costs for the Memorial Unions, a nonprofit group separate from the university that uses no state funds.
The workers wore mock doctor's scrubs during a promotional photo event Wednesday as they prepared to "surgically" reattach the skull section, but they've done some serious work to ensure the new bird stays in place, Pearse said.
The biggest concern is that the many children who climb on the Jayhawk stay safe, he said.
"Now kids can climb on that thing and have a hi-ho time," said Pearse, who retired in August 2012 but stopped by for the event Wednesday.
Workers said the Jayhawk's skull should be in place, sanded down so you'd never know it was removed, by sometime this week, as long as the weather cooperates.
It's a lot of work to keep the sculpture in place, Reid said, but it's worth it. It may not have the history of the bronze Jayhawk in front of Strong Hall, more than 50 years old, but its bright colors and wide, smiling beak might make it one of KU's best recruiters, he said.
"If you're 3 years old and you see that, you fall in love with it right away," Reid said. "And the rest of your life, you're thinking about that Jayhawk."
Copyright 2018 The Lawrence Journal-World. All rights reserved. This material may not be published, broadcast, rewritten or redistributed. We strive to uphold our values for every story published.