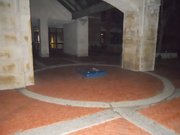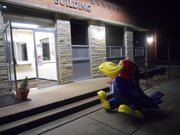 Photo Gallery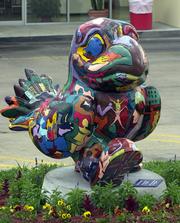 Jayhawks on Parade
The Classic Jayhawk sculpture that sits in front of the Kansas Union on the Kansas University campus was the victim of some shenanigans early Saturday.
KU Public Safety dispatchers received a call about 1:20 a.m. that two women dressed in black were near the sculpture. Upon investigation, KU police discovered the Jayhawk had been knocked over.
Officers were able to find the two suspects, who told them they had been taking a picture with the campus icon when one of them climbed onto it, causing it to fall over.
While officers were talking to the women, public safety dispatchers received additional reports that three men were attempting to walk away with the sculpture.
The Jayhawk was recovered and is currently in KU Public Safety custody.
The Jayhawk sculptures are no strangers to theft attempts and vandalism. It has been a recurring issue since the 30 pieces of art debuted for Jayhawks on Parade in 2003.
The Classic Jayhawk that was victimized Saturday morning is not the original. It was replaced in 2006 by a stronger version to help it withstand the high traffic area.
There was no additional information available regarding the incident Saturday morning.
Copyright 2018 The Lawrence Journal-World. All rights reserved. This material may not be published, broadcast, rewritten or redistributed. We strive to uphold our values for every story published.