The Kansas University Classic Jayhawk sculpture that took a beating last month will never stand before the Kansas Union again.
After more than two years at its perch, the fiberglass bird is being retired. A sturdier sculpture, costing about $2,000, will fill its place.
"We think we've done everything we need to do to make the new one something that will last for quite a while," said Wayne Pearse, an engineer with KU Memorial Unions who tried to doctor the damaged bird back to health.
Classic Jayhawk, which was featured in 2003's Jayhawks on Parade, was a favorite for many people. Children have been known to climb atop it, and many people had their photos snapped by its side.
Police in December arrested two 23-year-old men not affiliated with KU for roughing up the Jayhawk. The sculpture was ripped from its concrete base and rolled on the pavement.
"As we worked on it, we continued to find more and more damage," Pearse said.
Weblike cracks in the sculpture's body undermined its structural integrity.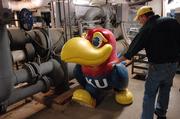 "We just felt like it was unsafe to put it out there," said Pat Beard, building service director for KU Memorial Unions.
Classic Jayhawk wasn't the only one damaged by vandals. In 2003, when painted Jayhawks were displayed in various locations as part of Jayhawks on Parade, several were attacked:
¢ "Gogh Hawks Gogh," a Jayhawk inspired by the work of Vincent van Gogh, had his good ear ripped off.
¢ A 1960s-themed Jayhawk lost its sunglasses.
¢ A Jayhawk disguised as a cow had a bell stolen from around its neck.
¢ "Merhawk on the Kaw," which had the lower body of a fish, was pushed onto its side, causing about $400 in damage.
Not unlike other pieces of public art, the outdoor Jayhawk sculptures can be vulnerable, said Susan Henderson, marketing director for the Lawrence Convention and Visitors Bureau, which organized Jayhawks on Parade.
"We knew that that was a risk," Henderson said.
KU spokesman Todd Cohen said Classic Jayhawk was pretty popular.
"It's got to be tough," Cohen said. "They just flock to it."
Its high visibility location made the bird more vulnerable to abuse.
"It gets bumped and knocked around a little bit," Beard said. "It's never been attacked like it was this time."
Now the retired sculpture sits in storage, untouched in case it needs to be used as evidence in the case against the two men.
Beard said he hoped the vandals would pay for the cost of a new sculpture.
The replacement bird, which KU expects to receive in two weeks, will be foam-filled with extra-strong legs.
Copyright 2018 The Lawrence Journal-World. All rights reserved. This material may not be published, broadcast, rewritten or redistributed. We strive to uphold our values for every story published.