Photo Gallery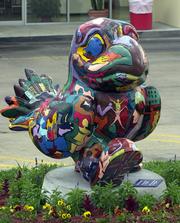 Jayhawks on Parade
Photo Gallery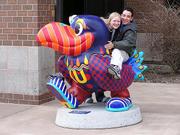 Search for the 'Hawks
Like a lot of people around Kansas University, Rodrigo Duque has an obsession with the Jayhawks.
No, not the basketball team. Not the football team, either. It's the big fiberglass birds - created for "Jayhawks on Parade" in 2003 - that have Duque's devotion.
"For some reason, I just found them to be likable," said the 19-year-old aerospace engineering major. "They were really nicely sculpted. It wasn't the Jayhawk you see every day."
That's why the KU student has been on a mission to see each of the Jayhawk statues, even though some are in private hands and others have left Lawrence.
But there are still three Jayhawks he hasn't seen and is still trying to locate: "Holy Hawk!" which had a hole in the middle; "Puttin' on the Glitz," which incorporated dozens of shiny reflectors; and "Hawk of the Arts," a beret-wearing bird carrying a paint palette.
"I still have hopes of finishing the project someday," Duque said.
Susan Henderson of the Lawrence Convention and Visitors Bureau, which sponsored the display, said Duque's devotion isn't uncommon. Visitors to town still regularly seek out the Jayhawks.
"Every time I get a phone call about 'Jayhawks on Parade,' I get a chuckle," she said. "It's the project that will never die."
The 30 Jayhawks went up around town during the spring and summer of 2003. Artists were paid $1,000 to put a personal stamp on the 5-foot-tall birds. Businesses provided $4,500 to sponsor each bird.
A few of the Jayhawks remained in place after the parade was over - three remain in front of the Jayhawk Bookstore on campus, for example. But 18 were auctioned off.
One of them was "Chip Off the Old Hawk," a mosaic tile piece, purchased by Michael and Debra Zabel from the United Way of Lawrence.
"He continues to sit in a place of honor in our living room," Michael Zabel said Tuesday. "We had him outside for about a year, but he didn't tolerate the winter very well."
His children often bring friends around, he said, to "show off their Jayhawk pet."
"There are not too many people who have a 5-foot high, 400-pound Jayhawk in their living room," Zabel said.
There's still a marketplace for the fiberglass fowl. Lawrence Memorial Hospital plans to auction its "Doc Hawk" in the spring.
"I don't think we notice it that much anymore, but people do - mostly the little kids," said Belinda Rehmer, a spokeswoman for the hospital. "He's cute."
Despite the popularity, Henderson said it's unlikely there will be a reprise of the parade anytime soon. Fancy Jayhawks are expensive and thus a tough sell to sponsors.
"Never say never, of course," she said. "The event was, by all the standards we had as an organizing group, very successful."
'Hawks around town
The following "Jayhawks on Parade" statues can still be found out on the town.
* "Doc Hawk," Lawrence Memorial Hospital. * "Hot Hawk," 800 block of Vermont Street. * "Merhawk on the Kaw," Jayhawk Bookstore. * "Bit o' Hawk," Jayhawk Bookstore. * "Mascot Miro," Jayhawk Bookstore. * "We Are All Stars," Lawrence Visitors Center * "Lions and Tigers and Hawks, Oh My," Hilltop Child Development Center. * "Kansan," Legends Apartments.
Rodrigo Duque's list of Jayhawks' locations
1) "Lions and Tigers and Hawks, Oh my!" on KU campus, Children Development Center. 2) "Mardi Gras on the Kaw Hawk" Lied Center, KU's west campus. 3) "So many faces but one heart that bleeds crimson and blue" KU Visitor's Center, KU main campus. 4) "Merhawk on the Kaw" KU bookstore on top of hill on Naismith Drive on KU campus. 5) "Bit O' Hawk" same as No. 4 6) "Mascot Miro" same as No. 4 7) "Classic Jayhawk" was in front of the Kansas Union, but removed for repairs. 8) "Whoosh" KU Alumni Center, KU campus 9) "Peacock on Parade" formerly at the Lawrence Arts Center. Moved a few blocks away inside the sponsor's building. 10) "Gogh Hawks Gogh" VanGo Mobile. Currently on loan to some private funder. 11) "Abstr-hawk-tion" Community Living Opportunities, Lawrence. 12) "John Brown Hawk" NewsCenter, 645 N.H., Lawrence's downtown. 13) "Uncle Sam Hawk" Rest stop area on I-70, Lawrence. 14) "Hot Hawk" Vermont Street, Lawrence. 15) "Doc Hawk" Lawrence Medical Center, Lawrence. 16) "Peace, Love, and Daisy Hill Forever" Douglas County Bank, Seventh Street and Folks Road Lawrence. 17) "The Kansan" Callaway Properties on 24th Street, Lawrence. 18) "Chip Off the Old Hawk" in private ownership. 19) "A hawk with a view" Cottonwood Inc. 31st Street, Lawrence. 20) "Shamrock Hawk" s auto diagnostics place, 31st Street and Four Wheel Dr., Lawrence. 21) "Patchwork Hawk" Massachusetts Street., Lawrence, inside a building that is being renovated, not viewable (for now). 22) "Heroic Hawk," Bob Billings Parkway. 23) "Rock Chalk Jayhawk Kubism" inside the Bukatey Agency, Overland Park, Kan., 24) "Jayhawk as Cow on Parade" in private ownership. 25) "Primary Hawk" in private ownership. 26) "We are all Stars" Lawrence Visitor's Center. 27) "Hawk of the Arts" MIA. 28) "Holy Hawk" MIA. 29) "Puttin' on the Glitz" MIA. 30) "Marvelous Mosaic" somewhere in Colorado. Rumored to be in John Elway's neighborhood.
Copyright 2018 The Lawrence Journal-World. All rights reserved. This material may not be published, broadcast, rewritten or redistributed. We strive to uphold our values for every story published.