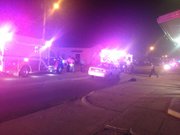 A vehicle-pedestrian accident in North Lawrence left a 37-year-old Lawrence man with serious injuries Saturday night.
At 9:02 p.m. Saturday, Douglas County Emergency Dispatch received a call reporting that a pedestrian had been hit by a vehicle near the intersection of North Second and Lincoln streets.
Lawrence Police Sgt. Randy Roberts said the man was walking west across North Second Street between Lincoln and Lyon streets when a northbound silver four-door Buick driven by a 21-year-old Lawrence woman struck the man.
The man was taken by air ambulance to Stormont-Vail Regional Health Center in Topeka. Sunday morning, Lawrence Police Sgt. Kirk Fultz said the pedestrian's injuries were not expected to be life-threatening.
Fultz said they were not yet able to release the names of those involved.
Police closed North Second Street near the accident scene for a time.
The names of the victim and driver were not released Saturday night.
Copyright 2018 The Lawrence Journal-World. All rights reserved. This material may not be published, broadcast, rewritten or redistributed. We strive to uphold our values for every story published.