KU Big Event 2013
To ask for help from Kansas University volunteers on April 13:
• Go to thebigeventku.com.
• Call 864-7469.
• Or answer at your door on Saturday, when volunteers will visit homes around Lawrence to find service projects.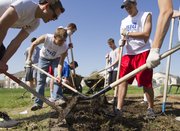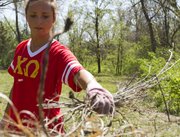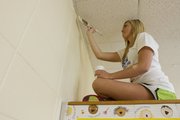 Contact KU and higher ed reporter Sara Shepherd
Have a tip or story idea?
---
More stories
Since her husband passed away and her back started acting up, Shirley Tarpy hasn't been able to get around to all the yard work she used to do.
But come springtime the last two years, Tarpy has had a resource she never had before: a group of Kansas University students ready and willing to come rake leaves, clean out gutters and do whatever else needs to be done at her North Lawrence home.
She didn't have to pull any strings or call in any favors to convince them to come help. All she had to do was fill out a form to sign up for help as part of a KU day of service called The Big Event.
"Those girls and guys, they just worked their tails off," Tarpy said.
KU's Big Event started in 2011, and its concept is so simple it can be tough to get across. Student organizers round up as many KU students, faculty and staff as they can, and they pour out into the city to help anyone with just about anything they need done.
This year's Big Event is set for April 13. But work is already well under way, and the students who run the operation are in full-on recruitment mode. They're looking not just for volunteers but for homeowners and groups who need help getting something done.
Lauren Reinhart, a KU senior from Kansas City, Mo., is the executive director for this year's Big Event. The purpose for the effort, she said, is for people of KU to thank Lawrence for providing them and the university a home.
"It's such a great community, and it's a nice way to just give back to the town of Lawrence in general," Reinhart said.
During KU's first Big Event in 2011, about 500 students spread out to around 100 project sites. For the second go-around in 2012, about 2,000 volunteers went to about 200 sites as some faculty and staff joined as well.
This year, Reinhart said, organizers are setting their sights high. They'll try to double both those numbers from last year and recruit 4,000 volunteers and 400 projects in need of help.
"I would say it's a little ambitious," Reinhart said, "but I think we can do it."
The oldest and biggest Big Event, at Texas A&M; University, sends around 17,000 volunteers to about 2,000 sites each year. Since the A&M; effort began about 30 years ago, about 80 other Big Events have sprung up.
Tarpy signed up to receive help from KU's Big Event both years, and she's on the list again this year.
Each year a small group of students have come to take care of some springtime tasks that she hasn't been able to get to since her husband died three years ago and she began to have back problems.
Last year about six came, and they helped paint her foundation, clean out her gutters and rake leaves on her tree-heavy lot. They left about 30 bags of leaves at the curb, she said. They brought their own rakes, bags, paint and other tools.
"I'm just grateful that we've got somebody like this in town for the people that can't do it," Tarpy said.
Tarpy's story shows one way the Big Event can help folks around town, but it's far from the only story. Reinhart emphasized that anybody at all can ask for help. There are no requirements for financial need, age or anything else.
Believe it or not, organizers actually have a tougher time recruiting people to ask for help on the Big Event day than they do recruiting volunteers. So, Reinhart says, don't be shy.
"Pretty much the message we want to send is that, you know, there's no limit to the amount of service that we can give," Reinhart said. "No job is too small or too big for us to send people."
As long as a job is safe and doesn't require power tools, it's fair game, Reinhart said.
She pitched in during the project's first two years, and she has trimmed hedges, raked leaves, scraped peeling paint and laid mulch outside a school.
Ashley Ellis, a KU junior from Kansas City, Mo., has also volunteered both years, rounding up other helpers from the Chi Omega sorority last year as well.
Last year she helped rake leaves with a group of around seven students, which was serious work on a warm April day.
"I remember getting kind of sweaty," Ellis said.
But the appreciative homeowner brought out cookies and lemonade when they were done, she said.
Volunteers will also wash windows, dust or sweep, paint inside or outside, or move something that needs moving. They'll work this year from 10 a.m. to 2 p.m. on April 13.
In most cases they'll bring their own tools and other materials. Last year, Reinhart said, the Big Event ordered about 4,000 lawn waste bags to use around the city.
Residents can sign up to request help online at thebigeventku.com or over the phone at 864-7469. Big Event volunteers will also be flooding the streets of Lawrence on Saturday, Reinhart said, handing out sign-up forms to residents door-to-door.
Job requests are due by March 31.
Tarpy has already put in her request for this year: She'd like volunteers to cut some brush along her fence and also clean her gutters and rake leaves again. She could ask them to wash her windows, but she likes to save a few tasks for herself.
For others in town, she says, her recommendation is simple: Don't think twice about signing up.
"If you need the help," Tarpy said, "let them do it."
Copyright 2018 The Lawrence Journal-World. All rights reserved. This material may not be published, broadcast, rewritten or redistributed. We strive to uphold our values for every story published.