Vance Moulton has always been one to beat the odds.
Doctors once predicted that cerebral palsy would prevent him from ever walking and eventually cut his life short. Other people have told him he wouldn't be able to graduate from college or live on his own. Time and time again, the 64-year-old Lawrence man has proven them wrong.
But even someone as independent-minded as Moulton needs help to maneuver his way through the choppy waters of medical care in America.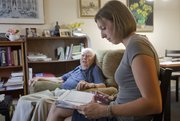 Enter Project Lively, one of a number programs in the Lawrence area aiming to keep seniors in the place where most of them prefer to live out their twilight years: at home.
As baby boomers reach old age and Americans live longer, healthier lives, programs like these are becoming even more vital. Plus, it's generally more expensive to stay in a nursing care facility than remain at home. Yet navigating our increasingly complex health care system can be a challenge, no matter your age.
Project Lively, a free program offered by the Lawrence-Douglas County Health Department and funded by city and county tax dollars, was established in 1982. Its case managers help coordinate the in-home care of about 120 clients, communicating with the various agencies who provide and pay for that service. They also make sure patients keep up on easily forgettable tasks like taking medication or eating dinner.
Care manager Sarah Norman has been trying to motivate 89-year-old Art Lamb to do the latter.
"I really don't think I ought to be eating if I'm not hungry," Lamb argued on a recent day at his sweltry Lawrence apartment, where he lives alone. "I'm really in pretty good shape for a guy 90 years old."
"I'm just worried about it," Norman said, sounding like a concerned granddaughter. "I just don't want you to waste away."
As much as Lamb sometimes resists Norman's advice, though, he is grateful for the assistance.
"Just to have somebody look in and help you — that makes a difference," said Lamb, a former politician, restauranteur and Kansas University staffer. "I don't want to be a burden. If I can, I want to live on my own. But knowing that there's someone who's looking out for me is a huge comfort."
Other providers
Jayhawk Area Agency on Aging provides a similar function to Project Lively but has the ability to, in some cases, help its clients pay for certain services. The nonprofit provides ongoing case management to about 90 people in Douglas County.
Eastside Village Lawrence is trying to get a different model off the ground locally: neighbors helping neighbors stay in the home. The nonprofit would consist of a network of volunteers and discounted service providers who would assist elderly residents with things like transportation, handiwork and technology support. The organization, which would serve neighborhoods east of Massachusetts Street, would also give older people an opportunity to socialize, according to founder Bonnie Uffman.
"Isolation becomes a factor as we age," said Uffman, a 67-year-old semi-retired psychotherapist. "When one is working full-time and a parent, there are plenty of opportunities (to meet people). When in the next stage of life, the children are no longer home and there are no co-workers on a daily basis, there aren't as many opportunities."
Uffman said she also founded the organization to prepare for the "silver tsunami" of baby boomers set to reach old age. Kansas' senior population is expected to expand from 358,171 in the year 2000 to 604,654 in 2025, an increase of 69 percent. This while 90 percent of Americans 60 years of age and older say they want to remain at home as long as possible, according to an AARP study.
The challenges of staying at home
Moulton's case shows just how difficult that can be.
Last fall, Moulton was dropped from Medicaid, which had allowed him to live on his own for decades. Money from a trust fund had recently become available to him, giving him too much in the way of assets to continue to qualify for public aid. And after a family member sued for a portion of the money and won, Moulton started burning through the remainder of the cash quickly.
That's when a social worker contacted Project Lively. One of its care managers, Corey Roelofs, found a state program, Money Follows the Person, that helps people like Moulton live on their own. To qualify for assistance, however, Moulton would have to spend 90 days in a nursing home.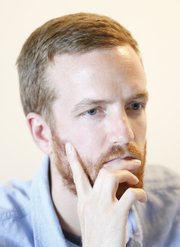 He checked into a facility in Baldwin City in late November. Confusion from the state's Medicaid privatization at the beginning of the year further delayed his stay. He was finally released July 1, when he moved into an apartment in Lawrence.
On a recent day, Roelofs stopped by to check on the newly independent Moulton. Boxes containing new furniture leaned against the walls. An upside-down KU pennant hung from the ceiling, the other touches of home including a statue of a bulldog (Moulton's high school mascot) and a picture of him and his late mother. When the phone rang, he wheeled himself over, pressing the speaker button to answer it.
"You guys can see, I try to be very independent," he said, a TV dinner tray and milk carton resting on a table nearby.
Moulton, a jovial guy with shortly cropped gray hair, knows what it's like to be on the other side of the care equation: He spent years working at independent living facilities, making phone calls to get clients things like transportation and furniture and inspecting buildings to ensure the disabled had adequate access.
Still, he does have to rely on help from others. Roelofs has been coming a couple of times a week to get him settled into his new digs. A personal care attendant gets him in and out of bed, buys his groceries and prepares his meals. A nurse makes sure his medical needs are being met.
"There's plenty of people who, with a little bit of support, can stay happy and healthy in their homes," remarked Roelofs.
Moulton said that while he had a good experience at the Baldwin City nursing home, meeting new friends along the way, he was relieved to finally be back on his own.
"I wasn't ready to stay in there," he said. "I've known so many people who have gone downhill when they get older. I try to keep my brain active. I don't want to wake up one morning and have Alzheimer's or dementia. I want to keep going."
Copyright 2018 The Lawrence Journal-World. All rights reserved. This material may not be published, broadcast, rewritten or redistributed. We strive to uphold our values for every story published.