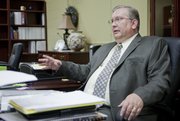 After the sudden departure of President Chris Redman in May, Haskell Indian Nations University is without a permanent leader for a stretch that will likely total about six months.
And whoever is picked won't have an easy job, said Michael Lewis, the university's acting president and its chief of finance for the last nine years.
"The president of Haskell is facing, you know, some challenges," Lewis, 54, said in an interview Wednesday.
Lewis, who has managed budgets for the federal government for 31 years, declined to say if he's interested in the permanent job. But whoever does take over, he said, will step into an already-challenging position made more difficult by federal budget cuts.
Haskell's budget, which is funded by a combination of federal appropriations and various grants totaling between $18 million and $20 million per year, lost about $635,000 in federal appropriations for the current fiscal year because of the federal budget sequester, Lewis said.
That brings its total appropriations to a bit less than $14.5 million.
So far, Lewis said, the university has weathered the cuts by leaving some staff positions unfilled and using slightly more adjunct faculty to teach courses.
That means the cuts have so far had little effect on students, he said.
"If the sequestration continues, though, we'll be unable to shield them from those impacts," he said.
Lewis, married with three adult children, managed budgets for Tinker Air Force Base near Oklahoma City and the Justice Prisoner and Alien Transportation System before coming to Haskell in 2004.
A member of the Cherokee Nation, Lewis has a bachelor's degree from Bethany Nazarene College —now called Southern Nazarene University — and a Master of Business Administration degree from Oklahoma City University.
He said that as acting president he'll largely focus on keeping the university's wheels running: planning budgets for the coming school year, preparing for accreditation processes and otherwise ensuring that things run seamlessly for students.
In addition to dealing with budget cuts, Haskell's new leader will take over a university that has weathered some public problems in recent years.
Haskell's athletics programs are on National Association of Intercollegiate Athletics probation through 2014, and a U.S. Department of Education report detailed instances of academic fraud in the athletics department between 2007 and 2010.
Before Redman's hiring, the university had also faced questions from lawmakers and faculty dissension about its leadership. Redman said after he took over in July 2011 that he hoped to raise the school's graduation rates, which were at about 26 percent for its two-year and four-year programs combined.
A new student success center, opened in 2010, has aimed to increase retention and graduation rates, Lewis said, but there's still much room for improvement.
Haskell in recent years has also updated its classroom and campus technology and streamlined its management, Lewis said.
"Haskell has a key niche in Indian Country and is adjusting and growing with the times we find ourselves in," Lewis said.
Redman announced in May that he was leaving for a new position in Oklahoma where he would "continue to serve Indian Country," saying in a letter to the campus that more information would be available after Haskell's commencement. But Haskell spokesman Stephen Prue said after Redman's departure that he had not given the university permission to reveal where he is now working.
The Bureau of Indian Affairs, which oversees the university, has the Haskell president position posted on the federal jobs site USAjobs.gov, where it will remain until Aug. 16. The salary range given is from about $114,000 to $148,000.
Federal jobs like this one are typically filled about two to three months after the advertisement closes, Lewis said.
Haskell enrolled about 840 students in its most recent semester from 130 Native American tribes and 40 U.S. states. Students pay no tuition but do pay student fees ranging from $115 to $215 per semester.
Copyright 2018 The Lawrence Journal-World. All rights reserved. This material may not be published, broadcast, rewritten or redistributed. We strive to uphold our values for every story published.