Chris Redman, the president of Haskell Indian Nations University, plans to resign soon to take another position in Oklahoma, he said in a message to students, faculty and staff Tuesday.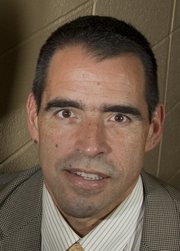 Related document

In a memo sent Tuesday afternoon, which Haskell shared with the Journal-World, Redman said he'd be moving closer to his family after being offered a new position.
"The choice was difficult for me," Redman wrote. "However, my wife and I both are at key points in our careers — she is beginning a career in nursing, and I have a great opportunity to continue to serve Indian Country in a new capacity."
The note contained no additional details about Redman's new job.
Haskell spokesman Stephen Prue said Redman and other officials would decline to comment beyond the memo, out of a desire not to draw attention away from Friday's commencement ceremonies. Prue said Haskell's Board of Regents is set to have a regular meeting later this week. "We want this week to be focused on our students and our graduation and not on Mr. Redman," Prue said.
The university will release further information after commencement, Redman wrote in his letter. He wrote that his memo was prompted by "a recent posting on a public forum" about his job status. A message on the Facebook page of the Haskell Indian Leader student newspaper earlier Tuesday reported the pending resignation.
Redman, 49, was named Haskell's president in June 2011. Before that, he served as acting president from December 2009 to March 2011.
He has worked for Haskell since 2008, after working in a variety of positions for the U.S. Bureau of Indian Affairs Office of Education Programs. He worked for the Chickasaw Nation of Oklahoma, of which he is a member, before that. He lived in Ardmore, Okla., at the time he was hired as Haskell's president.
Redman became president after the university had faced questions from federal lawmakers and dissent among its faculty regarding its leadership. He said shortly after his hiring that he hoped to raise the university's graduation rates, which were around 26 percent with associate's degrees included.
"I value my time here at Haskell as well as the strides we have made to overcome obstacles and begin healing," Redman wrote Tuesday. "Haskell is and will always be a special place for me. I will continue to be a strong advocate for the university in my new role."
In September 2012, the National Association of Intercollegiate Athletics placed all of Haskell's athletics programs on probation through 2014 for "violations involving ineligible players." A 2011 report from the U.S. Department of Education, obtained by the Journal-World earlier this year, detailed instances of academic fraud in the school's athletics department between 2007 and 2010. Redman said employees had been disciplined, or were no longer employed at the university, because of issues outlined in the report.
Haskell is funded by about $13.8 million in annual federal appropriations, and it has about 220 faculty and staff. Enrolled this semester are about 840 students from 130 different tribes and 40 different U.S. states. Those students pay zero tuition, though they do pay a student fee each semester: $215 for students who live on the campus or $115 for those who live elsewhere.
As of late Tuesday afternoon, the Journal-World had been unable to reach the Bureau of Indian Affairs for further information or comment.
Copyright 2018 The Lawrence Journal-World. All rights reserved. This material may not be published, broadcast, rewritten or redistributed. We strive to uphold our values for every story published.