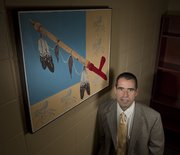 The new president of Haskell Indian Nations University said he wants to move on from challenges Haskell has faced in the past few years and focus on expanding opportunities for the university's students.
Chris Redman, who has been on campus since July 6, is familiar with some of the difficulties the school has faced from dissension within the faculty ranks to inquiries from federal elected officials, including Sen. Pat Roberts, R-Kan., about the school's leadership.
"I think it's more the exception now than the rule," he said of dissension at Haskell. "I'm very persistent about employees learning how to reach across those issues and being willing to disagree with each other and get the job done."
Sometimes, he said the issues painted a more dire picture than the reality.
"The sky never really was falling at Haskell," he said.
Redman said he took issue with reports that placed Haskell's graduation rate at 9 or 10 percent, saying those figures only focused on students who obtained bachelor's degrees.
When students who earned associate's degrees were factored in, he said the rates were around 26 percent. Still, he acknowledged, that wasn't high enough.
"I'd like to have way more than that," he said. "I'd like to have two or three times that."
He said the school needed to connect with students on an individual level to help bring that rate up. Students need counseling and someone they can call on when they're having trouble, he said.
Redman, 48, earned his bachelor's degree in business administration from Oral Roberts University and a master's degree in human relations from the University of Oklahoma. He worked with children with behavioral issues and in tribal administration before accepting a position in the federal Bureau of Indian Affairs in 1995.
He is planning on starting a doctoral program at Kansas University, he said.
He and his wife of 16 years were something like "The Brady Bunch," he said, each bringing two girls and a boy to the marriage. They have 10 grandchildren.
He twice served as interim president of the school in the period when former President Linda Sue Warner had been detailed to other duties.
Redman faces other challenges as he leads the school of about 950 students. It can't collect tuition (though it can collect some student fees), so he's looking for other streams of revenue.
He said he hopes to be able to put a foundation in place that can support athletics and academics at the university.
There are no plans to cut sports programs at Haskell, he said.
"I'm going to do everything I can to expand the program," he said.
Haskell currently offers four bachelor's degree programs — American Indian studies, business administration, environmental science and elementary education. Redman said that in the future, he'd like to see the school add more programs, perhaps in areas where he said students have asked for offerings, such as health sciences, nursing and accounting.
"I want to do that, but that is a process. I need to spend a little more time with my faculty and my vice president for academic affairs," he said.
In his first few weeks on the job, he's already met with and received invitations from a number of community organizations, including the Chamber of Commerce and other city leaders.
"That is high on our priority list, to be engaged in this community," said Stephen Prue, an executive assistant in the president's office at Haskell. "And I think we're doing well with that."
Copyright 2018 The Lawrence Journal-World. All rights reserved. This material may not be published, broadcast, rewritten or redistributed. We strive to uphold our values for every story published.