A former Kansas State University English professor convicted of killing his ex-wife in 2003 at her home north of Lawrence will be in court again Tuesday. He has filed a lawsuit challenging the legality of his prison sentence.
Thomas E. Murray, 56, is serving a sentence of 25 years to life in prison for the stabbing death of Carmin Ross, whose body was discovered Nov. 14, 2003, in her home in the 1800 block of East 1150 Road. A Douglas County jury in 2005 convicted Murray of first-degree murder.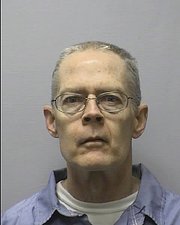 On Tuesday, Murray's attorneys will argue the defense attorneys who represented him at the murder trial failed to respond to problems with the state's DNA evidence. The lawsuit is proceeding as a civil case under a law that allows prisoners to challenge their sentences. It will be heard by Douglas County District Judge Robert Fairchild, who also presided over the trial in 2005.
Murray has been in El Dorado Correctional Facility, in Butler County, since he was found guilty. His conviction was upheld on appeal in a unanimous 2008 decision by the Kansas Supreme Court, and his earliest release date under the current sentence is Oct. 4, 2029. The story of Ross' murder and Murray's trial has been the subject of a 2009 book and television specials on CBS' "48 Hours" and Court TV.
At the time of the murder, Murray and Ross, a 40-year-old attorney, conflict mediator and peace advocate, were in a post-divorce custody battle over their daughter, who was 4 at the time.
Ross had been beaten, then stabbed 13 times in the neck and back.
Early on, Murray was a prime suspect, but he wasn't arrested and charged until nearly a year later. No physical evidence tied him conclusively to the scene of the crime, but prosecutors showed Murray had performed Internet searches for terms such as "how to murder someone and not get caught." He also had cuts and bruises on his hands and arms and was inconsistent in his story to investigators. Murray was convicted after a five-week trial, but has denied committing the murder.
When the civil case began in 2011, Murray's appointed attorney argued that a DNA expert for the prosecution at trial testified contrary to his initial report. According to this argument, the expert found in his initial report an "unknown contributor" in a blood sample mixed with Ross' blood on a baseboard in Ross' bathroom, but later testified to something different.
"At trial, however, he altered his conclusion and testified that although not conclusive, he believed the DNA belonged to Tom Murray based upon his review of the results," defense attorney Jessica Kunen wrote in a court motion. "This conclusion was not reflected in his report and should have been reported to defense counsel prior to trial."
Since then, Murray's argument has shifted to faulting the attorneys who represented him at trial. Adam Hall, another defense attorney now representing Murray, said the DNA expert's testimony came as a surprise to Murray and his defense.
"His claim is that his defense attorneys should have done something more for him at trial," Hall said Thursday.
In past filings, Murray and his attorneys have brought other arguments challenging the 2005 trial and claiming failures in his trial defense.
An argument from his appellate defense attorneys that inappropriate statements by prosecutors denied him a fair trial was rejected by the Kansas Supreme Court in 2008. But in more recent court filings, Murray has argued the current issues had not been brought up in that appeal.
Murray has also argued that his defense attorneys at trial didn't try to suppress a statement he gave to Douglas County Sheriff's Office investigators after his wife's body was found. Kunen, a defense attorney in the civil case, argued the statement was involuntary and that officers did not issue him a Miranda warning at the beginning of the interview.
Copyright 2018 The Lawrence Journal-World. All rights reserved. This material may not be published, broadcast, rewritten or redistributed. We strive to uphold our values for every story published.