Prosecutors' timeline of events
Nov. 11, 2003: Carmin Ross and her ex-husband, Kansas State University professor Thomas E. Murray, participate in child-custody mediation. Ross tells Murray she's moving to California and plans to fight him for custody of their 4-year-old daughter.
Nov. 13, 2003: Early-morning hours: Ross ends a telephone conversation with her fiancé, Larry Lima of San Diego.
• 8:15 a.m.-8:20 a.m.: A baby sitter in Manhattan estimates this is when Thomas Murray dropped off his daughter.
• 8:30 a.m.: A Lawrence neighbor sees Ross sweeping her front porch.
• 8:45 a.m.: The time Murray tells police he dropped off his daughter at the baby sitter's.
• 9 a.m.-11 a.m.: The period in which prosecutors say Ross was killed.
• 2:30 p.m.: Ross misses an appointment in Kansas City.
Nov. 14, 2003: 1 p.m.: After Lima grows concerned and calls police, Douglas County Sheriff's deputies come to the front door, look inside the home and see Ross' body.
Photo Gallery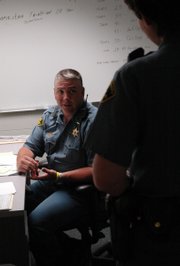 Book details Thomas Murray murder trial
From the beginning, Angela Wilson was deeply interested in the case.
Carmin Ross, a 40-year-old attorney, conflict mediator and peace advocate, was found brutally murdered in her own home. And Wilson, at the time a prosecutor in the Douglas County District Attorney's Office, was the attorney on call when it happened.
"From the very beginning of this case, it was fascinating," says Wilson, who went on to prosecute the case in court. "How could a person who was so aware and peaceful — all of the things we learned about Carmin — how could she come to this violent end? There was a level of intrigue that was there."
Now, the story of the murder — and the conviction of Ross' ex-husband and Kansas State University English professor Thomas Murray is reaching a new audience, thanks to a new paperback book by a Wichita resident.
Robert Beattie's "Language of Evil" (Signet, $7.99) hits bookstores Tuesday.
"One thing my agent taught me long ago is fiction has to be believable," Beattie says. "With nonfiction, the craziest things happen and they're all true."
Beattie should know. He wrote "Nightmare in Wichita: The Hunt for the BTK Strangler" in 2005, shortly after the serial killer Dennis Rader was charged.
For a follow-up book, Beattie, an attorney, asked friends around the state for suggestions. Several people mentioned the Ross murder.
'Hard case'
Murray and Ross were engaged in a child-custody dispute over their then-4-year-old daughter in November 2003, when the murder occurred. Ross was found beaten and stabbed to death Nov. 14, 2003, the day after prosecutors said she was murdered.
Early on, Murray was the primary suspect. But he wasn't arrested and charged until nearly a year later. A jury convicted him after a five-week trial in 2005, and he was sentenced to life in prison.
No physical evidence tied Murray to the crime scene. However, he had searched for terms such as "how to murder someone and not get caught" on the Internet, had cuts and bruises on his hands and arms and was inconsistent with his story to investigators.
"It's a hard case," says Beattie, 52. "It's not black and white. There's no magic bullet, no fingerprint, no DNA. Human beings had to decide this case, and they decided he was guilty within a reasonable doubt."
Interview process
Much of the book revolves around the 10-hour interview of Murray conducted at the Riley County Police Department in Manhattan. Douglas County Sheriff's Lt. Doug Woods, then a detective, conducted much of that interview. (Woods declined to discuss the book with the Journal-World.)
Beattie both read the transcript from that interview and watched much of the video taken of the interrogation room. Murray, a linguistics expert, seemed to have a counter argument every time detectives point to a reason why he could have been the murderer.
"It's almost out of fiction, where the opponent is an equal match (for Woods)," Beattie says. "It's not some dumb crook that's going to be caught. This guy's brilliant."
Prosecutors did point to some inconsistencies in Murray's story, however. For instance, he went through his timeline of the days surrounding the murder several times with Woods. But once he asked whether the Kansas Turnpike has cameras to track vehicles — and Woods erroneously replied that it did — Murray said "that's all I need to know" and changed his timeline to include a drive on the Turnpike. He said he planned to shop for antiques in Paxico but changed his mind mid-way.
For the book, Beattie talked with Ross' family, detectives, prosecutors, Murray's former K-State colleagues and others involved in the case. He says the book was ready for publication more than a year ago, but his publisher wanted to wait until the Kansas Supreme Court upheld the conviction before it was released. The case was upheld in January 2008.
More attention
This isn't the only national exposure the murder case has received. It already was the focus of two television specials, one on CBS' "48 Hours" and the other on Court TV.
Wilson, who now works in the Kansas Attorney General's Office, read an early version of "Language of Evil" and says she wants readers to know the conviction was the result of collaboration among many law-enforcement officials.
"I think based on my reading — the last version of the book — the reader could be left with the impression this case was solved by a small number of people," Wilson says. "The reality was this case — the whole thing — was the ultimate teamwork effort of any case I've ever seen."
She also hopes that the message of Carmin Ross' life — her peace-loving, compassionate side — comes out through the book. In all, she says, it's a story she expects many people to find interesting.
"It's hard to say, even early on, it was a run-of-the-mill homicide," Wilson says. "There were a lot of elements that went into making it a fascinating and yet horrible series of events."
Copyright 2018 The Lawrence Journal-World. All rights reserved. This material may not be published, broadcast, rewritten or redistributed. We strive to uphold our values for every story published.