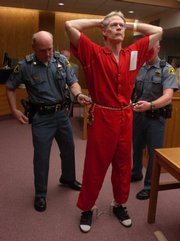 A former Kansas State University English professor convicted of killing his ex-wife north of Lawrence in 2003 is challenging the legality of his prison sentence, arguing there were problems with the state's DNA evidence at his trial.
Thomas E. Murray, 55, is serving a sentence of 25 years to life in prison for the stabbing death of Carmin Ross, whose body was discovered Nov. 14, 2003, in her home north of Lawrence. A Douglas County jury in 2005 convicted Murray of first-degree murder.
Murray's lawsuit is proceeding as a civil case in Douglas County District Court under a law that allows prisoners to challenge their sentences.
Murray's appointed attorney is arguing the DNA expert who testified for the prosecution at the trial in his initial report found an "unknown contributor" in a blood sample on the baseboard of Ross' bathroom mixed with Ross' blood.
"At trial, however, he altered his conclusion and testified that although not conclusive, he believed the DNA belonged to Tom Murray based upon his review of the results," defense attorney Jessica Kunen has written in a court motion.
She said the "alteration to the conclusions in his report" took Murray's trial attorneys by surprise and the change was detrimental to Murray's case.
"This conclusion was not reflected in his report and should have been reported to defense counsel prior to trial," Kunen wrote.
Kunen also believes the testimony about the DNA found in the bathroom should have been rebutted "because such a conclusion was not acceptable to the scientific community."
The Kansas Supreme Court in 2008 upheld Murray's convictions and rejected an argument from his appellate defense attorneys that inappropriate statements by prosecutors denied him a fair trial, but in court filings Murray has argued these new issues were not brought up.
Prosecutors in Douglas County District Attorney Charles Branson's office have maintained Murray is guilty and earlier this summer asked Chief District Judge Robert Fairchild to dismiss Murray's lawsuit because Murray and Kunen had not taken action in the case for several months.
But Kunen wrote in a recent court motion that she was waiting on results of the evaluation of DNA evidence from another scientist, and she is asking Fairchild to set a hearing to hear evidence in the case.
Murray and Ross divorced in 2003 and had been involved in a custody dispute over their then 4-year-old daughter.
Kunen and Murray have also argued that his defense attorneys at trial failed to move to suppress a statement Murray gave to Douglas County Sheriff's investigators after his wife's body was found. Kunen argues the statement was involuntary and that officers did not issue him a Miranda warning at the beginning of the interview.
Copyright 2018 The Lawrence Journal-World. All rights reserved. This material may not be published, broadcast, rewritten or redistributed. We strive to uphold our values for every story published.