8:22 p.m. update
Light snow is falling off and on in Lawrence, with a band of heavier snow moving up from the south. Roads remain clear. The National Weather Service said it's sticking with its earlier forecast and still predicting eight to 10 inches of snow for the Lawrence area with the heaviest snow coming after midnight and early Tuesday morning.
Winter Weather
Winter weather information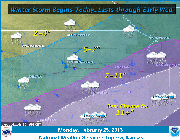 4:18 p.m. update
Snow has begun to fall in Lawrence, and if forecasts hold it will only get heavier —and more blustery — from here.
As of about 3:30 p.m. Monday, forecasts still call for about 10 inches of snow in the Lawrence area during the second massive winter storm to come through the area in a week's time. That's the amount predicted to fall between now and about noon Tuesday, said National Weather Service meteorologist Bill Gargan.
Snow, which already began to fall in Lawrence during mid-afternoon, should continue off and on until about 8 or 9 p.m., Gargan said, at which point it will increase steadily. Between midnight and 9 a.m. Tuesday, it could fall at rates of about a half-inch to one inch per hour.
Also during that time, the snow will combine with winds of 20 to 25 miles per hour, with gusts beyond 30. That will cause visibility of a quarter-mile or less, with temporary whiteout conditions possible at times.
"The morning commute doesn't look too good right now," Gargan said, "with heavy snow and the blowing and drifting snow."
Snowfall should taper off during the late morning, he said, and end in the early afternoon, he said. Another round of snow could tack another inch onto the total Tuesday night and Wednesday morning.
On a statewide conference call Monday, Gov. Sam Brownback urged residents to simply stay home Tuesday if they can help it, echoing his advice during last week's storm.
"That advice from last week might seem old, tired," Brownback said, "but if you don't have to travel, don't."
Kansas Secretary of State Kris Kobach urged anyone planning to vote in Tuesday's local primary elections around the state to do so today. Kobach directed counties, including Douglas County, to extend their advance voting hours today until 7 p.m. Advance voting for the Lawrence City Commission primary is taking place at the Douglas County Courthouse, 11th and Massachusetts streets.
"The best thing people can do is go ahead and vote on the way home from work today," Kobach said.
State officials said that anyone who would be heading out on the road during the storm should check 511.ks.org for road condition updates from the Kansas Department of Transportation.
"These are some of the biggest snow events since we've been keeping records in the state of Kansas," Brownback said of this week's storm and last's.
Several area school districts, including Eudora, Tonganoxie and Ottawa, had already canceled classes for Tuesday by late Monday afternoon.
The city of Lawrence's sidewalk snow ordinance, which allows for property owners to be fined if sidewalks aren't cleared of snow within 48 hours after a snowfall, will not be enforced until after this week's snowstorm, said city spokeswoman Megan Gilliland on Monday.
City crews have been pre-treating streets during the day Monday, Gilliland said, continuing their 24-hour work since Wednesday of last week.
Morning update
Things may be calm during the day today, but don't be fooled: Another major winter storm is still in store for the Lawrence area over the next two days.
But this system, though it could again dump 8 or more inches of snow on Lawrence, will be a slightly different beast from the one that tore through the Midwest last week, with stronger winds and more uncertainty.
As of this morning, forecasters are predicting for things to remain calm until the early evening hours Monday, said National Weather Service meteorologist Audra Hennecke.
"Today is actually going to be a rather quiet day," Hennecke said, at least during daylight hours.
Though forecasters earlier were predicting some freezing rain and snow during the day today, Hennecke said it now looks like any precipitation will hold off until the early evening. Some light showers or flurries could pop up before then, though.
But from this evening through Tuesday morning, things are projected to get serious. Steady snow will likely be joined by something that wasn't present during last week's snowstorm: strong winds, perhaps 10 to 20 miles per hour, with gusts up to 35.
"That makes for extremely treacherous driving conditions," Hennecke said, especially late this evening and overnight.
And this system is moving slowly, which means blowing snow could remain hazardous for a period of several hours.
As for snowfall totals, the forecast calls for about 8 to 10 inches for the Lawrence area from tonight through Tuesday morning.
But that comes with a caveat: This storm, which is currently dropping snow over southern Kansas and rain on northern Oklahoma, is a bit tougher to pin down than last week's. The area projected to receive the biggest snowfall is fairly narrow, so totals within even a single county could vary widely.
"The Lawrence area looks to be right on the cusp," Hennecke said.
Snow is expected to taper off after Tuesday morning, with perhaps some light snowfall persisting into Wednesday morning: less than an inch total.
Copyright 2017 The Lawrence Journal-World. All rights reserved. This material may not be published, broadcast, rewritten or redistributed. We strive to uphold our values for every story published.