Dispatches from the Academy
Over the past two months, Journal-World reporters Ian Cummings and Shaun Hittle joined other local residents in attending the Lawrence Police Department's Citizens' Academy. In the twice-weekly course, Cummings and Hittle saw gruesome crime scene photos, dusted beer bottles for fingerprints, learned how police solve robbery cases and witnessed — via video — some harrowing police chases through the streets of Lawrence. They also learned that police work is often best left to those who went through the real police academy. They chronicled their Police Academy adventures in their Dispatches from the Academy blog on LJWorld.com. Here are some of the highlights:
Some things are worse than murder
During a class in which we learned about homicide investigations and crimes against children, we ate lasagna while examining a photo of the exit wound a shotgun blast left in a Lawrence man's face.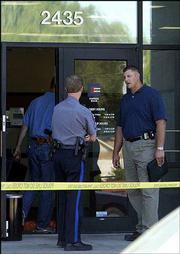 Even those with the strongest intestinal fortitude had second thoughts about going back to the buffet for a second helping. But it was really good lasagna, so we put the gore out of our minds and forged ahead.
Some things, we'd learn, might be worse than murder.
A detective told us to take a notepad and write down our most recent sexual experience. He wanted us to detail everything: date, time, where it was, who we were with and exactly what we did. As a class, we hesitated to pick up our pens and pencils. Imagine writing all of that down. Now, imagine reciting those details in an open courtroom for a judge, several attorneys and whoever else might be there. Imagine you are 5 years old, and you've been abused by a trusted relative.
Lance Flachsbarth, a detective who spent time in juvenile investigations, explained some of the techniques he's used to interview children in difficult situations. He talked about breaking the ice, giving a young child time to think and avoiding leading questions. He broke down for us the psychology of different types of child molesters and pedophiles.
The most dangerous kinds of offenders, Flachsbarth said, are criminals who are willing to assault anyone who is available to them, including children, the elderly and people who are disabled. These are the ones most likely to kill their victims to avoid detection.
Now, imagine eating another helping of lasagna after hearing that.
The smell of evidence
Citizens' Academy attendees were able to visit a place very few people ever step foot in: the Lawrence Police Department's evidence room, tucked away above the county's courtrooms.
It wasn't what we saw that initially caught our attention. It was the smell. The second you enter, the pungent scent of marijuana hits the nose, a byproduct of all the drugs confiscated and later stored by local law enforcement.
Solving cases
In the robbery/homicide portion of our class, detectives Jack Cross and M.T. Brown challenged us to solve two well-known Lawrence crimes.
One was a 1996 robbery of a Sonic restaurant and the other was the 2002 double murder of George "Pete" Wallace and Wyona Chandlee. Of course, the cases had already been solved, and our task was merely to guess the right answers based on evidence police found at the crime scenes.
In the Sonic robbery, police arrived at the restaurant chain's 3201 W. Sixth location on Aug. 12, 1996, to find that two men with handguns had locked several employees in a walk-in cooler and escaped with thousands of dollars in cash.
In the 2002 murder case, police found Wallace and Chandlee, both 71, of Lawrence, on July 11 in their house at 1530 Learnard Ave., lying next to each other on the carpet in the living room. Both had been shot twice in the head and the house had been ransacked. A bag of groceries remained unpacked nearby, with the receipt dated the day before.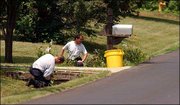 The detectives led us beyond the crime scene tape and through the basic steps of an investigation. There are a lot of them, but here are some of the main points:
• Secure the crime scene. Preserve and photograph footprints, blood or other evidence.
• Interview witnesses. In a homicide, relatives and friends of victims are often the most valuable informants.
• Get information out. If you have a description of a suspect, circulate it among other officers immediately.
• Establish a timeline. Where were the victims over the past few days?
• Look for security cameras in the area that might have captured images of the suspects.
We started shouting out theories and after a few hours, we solved the crimes all over again. Two Kansas University students, short on money for bills, were convicted of the Sonic robbery. One was a former employee of another Sonic restaurant.
Damien C. Lewis, a recent parolee from a Kansas prison, was convicted of the double murder. Police said Wallace and Chandlee surprised Lewis while he was burglarizing their home, and he killed them to avoid being identified.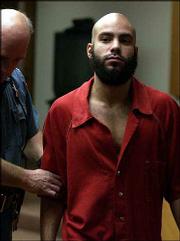 We shuffled out, mentally numb and emotionally scarred. If much of our education was lighthearted and fun up to this point, our rookie class had now graduated to the darker territories of law enforcement.
Police work=Paperwork
For die-hard law enforcement enthusiasts interested in a police career, take this warning: There's far more paperwork-writing than chasing bad guys. Hours and hours of paperwork.
As it turns out, a huge part of policing is writing down names, addresses and descriptions of the daily incidents and reported crimes that officers respond to every day. Almost all of those reports eventually find their way to the department's website, along with a lot of other information, and that can actually be pretty useful.
For example, all of the information goes to creating a set of cool-looking, constantly-updated public maps that show if a neighborhood is a "hot spot" for crime and make for some entertaining web browsing.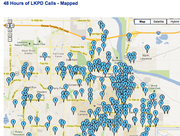 Elsewhere on the website, we saw who had a warrant out for their arrest. You might be surprised to find yourself there. And all of the reports the police take down for crimes and car accidents are available free online.
As reporters, this easily accessible information is very useful on a daily basis and we're glad it's there. Other Citizens' Academy cadets weren't as thrilled. Some of our classmates were surprised and unhappy to learn that their names, addresses, phone numbers and driver's license numbers are published online if they happened to be the victim or witness of a crime, or even a car accident. We had a long talk about privacy and the dangers of identity theft.
It's the law, our police instructors said. Kansas, like most states, has laws guaranteeing open access to these kinds of public records.
CSI: Lawrence
Crime scene investigation is not as easy as it looks on television.
Just taking your own fingerprint off of an aluminum can, as we learned in an exercise, can be infuriatingly difficult. The tape sticks to all the wrong edges, black powder gets everywhere, and you may end up with nothing but a smudgy blob. That doesn't happen to David Caruso on "CSI: Miami."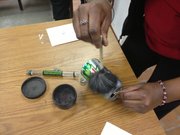 But, as Lawrence detectives Randy Glidewell and David Axman showed us, that's only the beginning of how messy real-life police work can be. At any given crime scene, investigators can expect to deal with blood spatter, teeth marks, bodily fluids, bad fingerprints and huge piles of dead flies. Our hands-on exercises were thankfully limited to more routine types of evidence.
The whole practice of forensic investigation, as we learned, is based on Locard's Exchange Principle, which says that a perpetrator of a crime always carries away traces of the victim. The opposite is also true, that victims take away traces of the perpetrator.
That principle leads investigators to examine all kinds of gory material. When criminals try to clean the blood from a crime scene, detectives can use a chemical called luminol, or Bluestar, to make it appear in the dark. They will use ultraviolet light to find, and run DNA tests on, semen left on a bed sheet. They will study the lifecycle of houseflies to interpret the piles of maggots and the swarming flies around a man who's been hanging in an attic for 10 hot summer days.
To preserve the more difficult fingerprints, investigators will sometimes coat them in a mist of vaporized Super Glue. The glue holds oils and amino acids in place to allow investigators to make several attempts at pulling the print without destroying it.
We got to try our hand at dusting for prints, with mixed success. Walking out of class, we could see Locard's Principle at work among us. We took away with us ink-stained thumbs and a new understanding of forensic science.
Not-so-quick draw
It was a sobering moment at the Citizens' Police Academy as one of our two Journal-World reporters — who will go unidentified here — stepped up as a volunteer in a simulated shooting exercise.
Lawrence police Capt. Bill Cory handed out a fake handgun as he set up the scenario on a large computer screen. There would be a police vehicle stop, and our role was as the backup officer. On the screen, a partner approached a car, and a woman was asked to step out of the vehicle.
=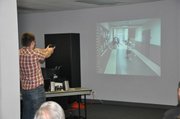 So many questions to ponder as the simulated scene played out. Mainly, how would Raylen Givens, the rogue U.S. Marshal in the TV series "Justified," act under these circumstances? He'd be aggressive, but a perfect shot, ready to save the day, for sure. Would he even bother to take up a proper shooting stance, or just fling from the hip? Would he try to verbally de-escalate the situation, or just go for the gun?
None of that mattered. In this scenario, the partner and the reporter were dead faster than one of Givens' outlaws in a honky tonk saloon shootout.
See, all of that thinking, along with a second passenger who exited the vehicle, distracted us long enough for the woman to pull a gun and shoot both me and my partner. And that was the point. In the heat of the moment, decision-making is compromised. It's not even really decision-making as much as it is reacting.
Thankfully for the residents of Lawrence, we'll leave this type of quick-action police work to the professionals.
If any of this sounds interesting, keep an eye out for the 2014 Lawrence Police Citizens' Academy program next year.
Copyright 2018 The Lawrence Journal-World. All rights reserved. This material may not be published, broadcast, rewritten or redistributed. We strive to uphold our values for every story published.