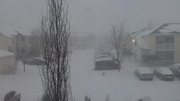 It's been snowing outside. A lot. There was even some thundersnow as a wake-up call this morning. Whether you're weathering the storm inside or need to go out and brave the elements, make sure you're well-equipped with our collection of links to snow resources:
If staying in isn't an option, check the Kansas Department of Transportation for the latest traffic info and road closures. Also keep an eye on the National Weather Service's radar for predictions, and ebbs and flows in the storm. And Google's public alerts provide easy updates.
Gov. Sam Brownback has declared a state of emergency in Kansas, so it's helpful to check up on local closures and forecasts.
While humans huddle inside trying to keep warm, Nikita the polar bear at the Kansas City zoo must be elated. Watch her here.
And it may be an oldie but hot chocolate is always a goodie. Here's a little blast from the winter past by the Huffington Post with warm and delectable hot chocolate recipes. Speaking of blasts, check out this cool article that ran in the Lawrence Daily Journal-World in 1913.
Please keep an eye on our Storify collection where we're pulling relevant links, photos and videos about the #KSsnowstorm.
Stay warm and stay safe.
Copyright 2018 The Lawrence Journal-World. All rights reserved. This material may not be published, broadcast, rewritten or redistributed. We strive to uphold our values for every story published.