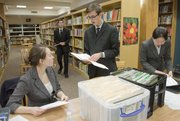 Free State High School forensics coach Jo Ball had precious little time Saturday to prep her squad for the upcoming final rounds of competition.
At a tournament hosted by Lawrence High School, Ball was elated that about a dozen of her student entries had advanced to the final rounds. But there was little time to celebrate at that point.
She'd had only a few minutes to review the ballots from the morning's three preliminary rounds. Those ballots included comments from judges explaining what the speakers did well and where they needed to improve — valuable hints about how the speakers could improve their chances in the finals.
"What happened in round one?" she asked one student, sounding much like a football coach questioning a player who'd dropped a pass.
"Organization," she called out to another student. "Focus, structure," she said to others.
The half-time pep talk outside the high school ended quickly. The students hurriedly moved back inside to look at the official results posted on a wall in the cafeteria, then scurried off to their next rounds, some hauling boxes of papers and research material with them.
Such is the nature of high school forensics tournaments, where the competition can be every bit as fierce as a track and field meet, and where the events can tax a competitor's skills and intellect as much as a two-mile race taxes a runner's endurance.
The events include extemporaneous speaking, where students blindly draw topics out of an envelope — either on domestic or foreign public affairs — and have 30 minutes in which to write, rehearse and memorize a five minute speech before performing it to a panel of judges.
Other events include impromptu speaking, original oratory, poetry and prose reading, dramatic and humorous interpretation, as well as various one- and two-person acting events.
Participants may carry out those tasks four, five or even six times in a single day.
Nine other schools from northeast Kansas sent teams to the Lawrence High Invitational, less than half the number of schools who took part last year.
But Jeff Plinsky, the LHS coach who managed the tournament, said that was mainly due to a fluke in the calendar this year.
"There are four other tournaments in northeast Kansas this weekend," Plinsky said. That meant teams from Shawnee Mission Northwest, Blue Valley Northwest, Baldwin City and Washburn Rural in Topeka could not send teams because they were hosting their own tournaments, just as Lawrence could not send teams to those events.
"Some years they bunch up like that; some years they're spread out a little more. This just happened to be a year when we got bunched up," Plinsky said.
While speech and debate have declined as an extracurricular activity in some states, Plinsky said they have remained steadily popular in Kansas.
"Under No Child Left Behind, this was an activity that was not an obvious test score increaser," he said. "And with the push toward STEM — science, technology, engineering and math — lots of kids have been pushed into that, so those kids who might have been on the fence about it five years ago may not be taking it now because they have to take a little more science and math than they used to, so they have a little less choice."
In one of the preliminary rounds, Chloe Bridge, an extemporaneous speaker from Piper High School in Kansas City, was asked to speak on whether No Child Left Behind should be repealed. She thought that it should, but her speech revealed how students who have taken the standardized tests mandated by NCLB have experienced that law much differently than the adult policymakers who enacted it.
She ended up taking seventh place in domestic extemp, as well as fifth place in impromptu speaking.
Free State's Alex Houston and Hannah Moran took first and second place, respectively, in the foreign extemp competition.
Overall, Piper won the sweepstakes trophy for best overall team performance. Free State finished second, followed by Olathe Northwest High School in third.
"We've been working really hard this semester toward making sure that we are diversified in all the different events, so I think that really showed today," Piper coach Katie Deneault said.
Copyright 2018 The Lawrence Journal-World. All rights reserved. This material may not be published, broadcast, rewritten or redistributed. We strive to uphold our values for every story published.