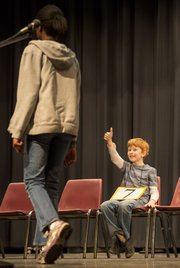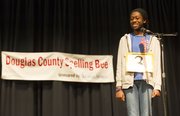 For those who don't know, which is probably most people, an isobar is a line on a map joining places of equal average atmospheric pressure reduced to sea level for a specified period of time.
But even if most don't know what it means, one of 25 students from third through eighth grades would get a crack at spelling it, along with a myriad of other colorful words ranging from "toboggan" (a kind of sled) to "wafture" (the act of waving or a wavelike motion), at the 2013 Douglas County Spelling Bee on Saturday.
After nine elimination rounds, the winner of the bee, held at Southwest Middle School, 2511 Inverness Drive, was Abena Peasah, a Bishop Seabury Academy eighth-grader. South Middle School sixth-grader Aidan Pierce finished in second place.
Abena won the final round by spelling "stabilizer."
Both advance to the Capital-Journal annual regional bee March 2 in Topeka, where they will compete to go to the Scripps National Spelling Bee in Washington, D.C.
Last year, the Douglas County Spelling Bee winner won the regional competition and competed at the national level.
The Lawrence Journal-World has sponsored the Douglas County bee since 2009.
Copyright 2018 The Lawrence Journal-World. All rights reserved. This material may not be published, broadcast, rewritten or redistributed. We strive to uphold our values for every story published.